summer picnics, flicks, and Korean BBQ meets Viet sandwiches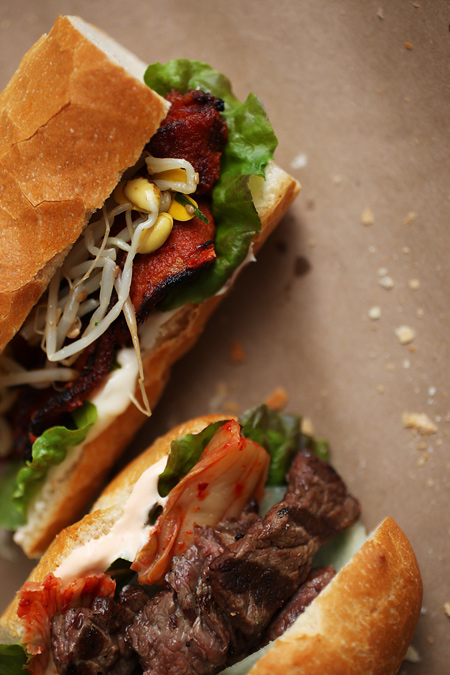 Summer. In my opinion, nothing defines the hottest and most leisurely season of the year better than a celebration of good food and friends outdoors in the warm, hazy glow of the late summer sun. In the past few years, concerts at the Hollywood Bowl were by far the favorite place to be. Picnicking in your seats with an elaborate spread, a few bottles of wine, and great live music as a backdrop. It didn't get better than this.
When my friend Scott suggested we attend Cinespia, it was a no brainer. An outdoor screening of Ferris Bueller's Day Off, picnicking al fresco under the stars with few thousand other similar-minded fun seekers? Sign me up! For those that don't know (me included, until just a few months ago), Cinespia is a series of summer movie screenings at the Hollywood Forever Cemetery. Sounds morbid and disrespectful, I know, but it actually takes place on an open (and unoccupied, if you know what I mean) lawn. You get to bring your blankets and chairs, grub on food and drink till the summer sky concedes to night, at which time a selected cult classic is projected for the next couple of hours. It's not as creepy as it sounds, trust me.
So in planning of what food to bring, my mind appropriately turned to BBQ. Not BBQ in the traditional southern sense, mind you, but something more befitting of the cultural melting pot we live in. How could we enjoy another one of summer's favorite past times, but in a way more suitable and convenient for picnicking? Then it dawned on me. How about Korean BBQ, served in a baguette not unlike the Vietnamese Bánh Mì sandwich? Hmm, I thought. So with the help of my resident Korean food expert (and sweetheart), we headed off to Garden Grove (the mecca for Korean and Vietnamese food & foodstuffs in Orange County) to do a little shopping. The trip to the Korean market yielded dwehji sahmgyupsahl boolgogi (marinated spicy pork belly) and galbi sahl (unmarinated boneless short rib) from the meat department, mooh ssahm (vinegared, wasabi-flavored daikon wrappers), kong namul (bean sprouts), red leaf lettuce, and of course, kimchi (spicy pickled cabbage). A popular Vietnamese bakery provided warm-from-the-oven, freshly-baked baguettes.
Bora did all the heavy lifting, quickly prepping all the necessary ingredients (and also whipping up a tasty sesame mayo and chili mayo), while I fired up the barbie to grill the pork and beef. I toasted the baguettes in a 350 degree oven for 5 minutes (the baguettes are commonly underbaked to be crisped up at home) and presliced them for easy assembly later. Everything was then packed for a fun-filled evening.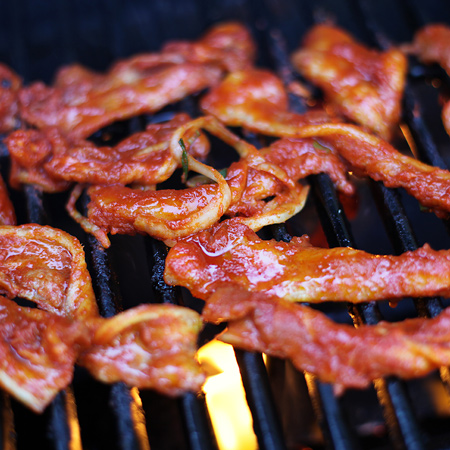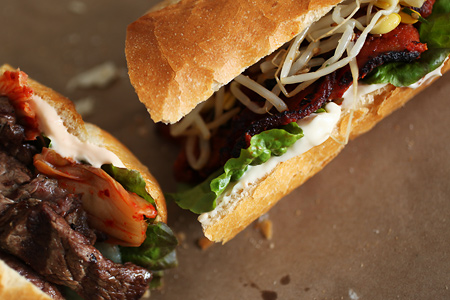 Cinespia turned out to be a blast. There's definitely something to be said about picnicking en masse; the shared feeling of joy, relaxation, and being carefree — savoring the last few days of summer. The movie perfectly mirrored that sentiment. It was agreed that this may become an annual affair, a new summer tradition? It was in ways more comfortable than the confined seats at the Bowl, with more room to spread out. Though the view of the screen can be a crap shoot, depending on who ends up sitting in front of you (and how tall they are). A different experience nonetheless. And yes, the Korean BBQ Bánh Mì sandwiches turned out awesome. The grilled meats were deliciously Korean, further supported by the familiar tastes of the kimchi, pickled daikon, red leaf lettuce, and bean sprouts. The mayos were a nice touch, a nod to the Vietnamese Bánh Mì but tailored to the Korean ingredients. The chili spiked mayo matched the grilled meats well, but my favorite was the nutty, toasted sesame version. The crisp, buttery baguette, the pride of the Vietnamese, perfectly enveloped all the fillings, and served as the ideal delivery vehicle.
In the end, it was a very enjoyable summer evening, filled with great friends, good food and a classic film that kept everyone cheering and laughing. I think Cinespia and Korean BBQ Bánh Mì have become a new summer favorite. Can't wait till next year!