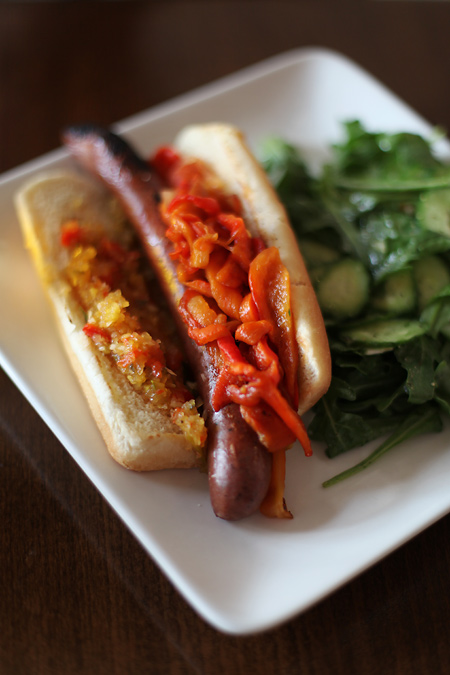 Once again, the lure of burgers and hoppy ales was too strong. Another gastropub was calling, this time it was the Golden State. Sourced from throughout California (with the exception of brews, which hail mostly from the state but not exclusively), their menu reads like a play on the whole eco-conscious, sustainable, local food movement. More so, it's just name dropping an ecletic mix of what California has to offer. Beef from Harris Ranch. Let's Be Frank hotdogs. Gelato from Scoops. Virgil's Root Beer from Reed's. You get the point.
Golden State currently pours about 10 beers, some from bottles, the rest from draft. The selection includes some, might I dare say, common favorites like Racer 5 (Bear Republic), West Coast (Green Flash), and Great White (Lost Coast); all great beers, so I'm not complaining. There's also a few California wines by the glass, and a few sodas from Reed's. The food offerings are fairly spartan, consisting of burgers, sandwiches, hot dogs, a trio of salads and some sides.
On my visit I sampled the burger, which features Harris Ranch beef, Fiscalini Farms cheddar, applewood smoked bacon, arugula, and housemade aioli and ketchup. The burger was quite juicy and flavorful; the savory bacon, cheddar, and de facto pairing of bitter arugula complimented the aged beef well. A soft bun does its darnest to hold in the dripping juices. All washed down with a Maharaja double IPA from Avery Brewing Co. I liked it.
I've always wanted to try some of the artisan dogs from Let's Be Frank, but have never made it to the cart in Culver City. Though I didn't get to again this time, my friend reported that it was good, the relish being particularly tasty. The fries were well done, and while the sweet potato variety had great flavor, they were a wee bit thick for most. Dessert was gelato sourced from cult favorite Scoops just a few miles away. Though admittedly I was initially drawn in by the hype over Tai Kim's strange and sometimes alcohol-centric flavors, now I find them just ok. However, the temptation of a beer float (scoop of gelato + Old Rasputin Stout) and burger might have me coming back for more.
The Golden State
426 N Fairfax Avenue
Los Angeles, CA 90036
(323) 782-8331