great food and good times need no separation at Church & State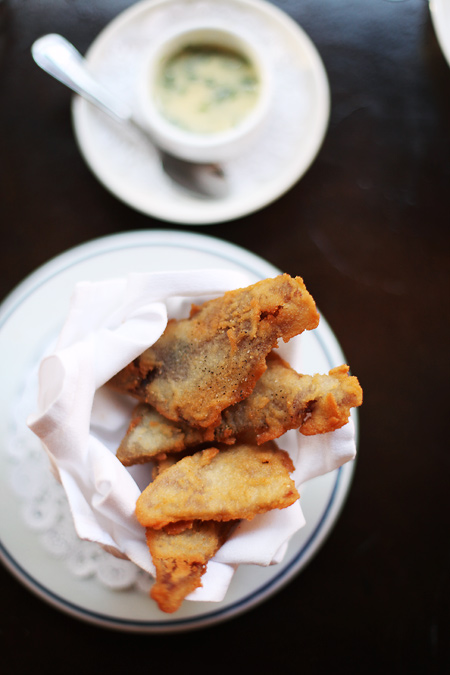 Tucked into a small urban oasis in a rather questionable side of town, Church & State defies convention. The beautiful glass, steel, and brick façade on the bottom level of the National Biscuit Company Building, with its outdoor patio, tree-lined sidewalks, and young professionals walking their dogs outside, is a stark contrast to the surrounding sooty industrial buildings, the vast concrete-lined LA River, and infamous skid row just around the corner. Regardless of the location, the food, with Walter Manzke (formerly of Bastide) at the helm, is excellent. Unlike other Steven Arroyo hot-spots like Cobras & Matadors, which seemed more focused on entertainment than outright authentic cuisine, Church & State brings its rock-solid, comforting bistro fare to the forefront. Manzke's dishes stun you with their simplicity and deft execution; their flavors celebrate classic French technique and quality of ingredients. Is it possible to have incredible French food in an exciting and vibrant atmosphere in the middle of downtown's sketchy warehouse district? Church & State says you can.
While Anisette across the way in Santa Monica is more traditional, grand, and Parisian in feel, Church & State is more befitting of its downtown location; it's fun, lively, a bit more edgy and hip, and Manzke runs with it. The best way to sample his menu, in my opinion, is to order up a gamut of appetizers and small plates, and bring a few friends to share. Most of the entrees are also smartly offered in a smaller size, perfect for sampling.
A great start is the Gambas à la Niçoise. A nod to ama ebi (Japanese sweet shrimp), Santa Barbara spot prawns are cooked just enough to color their shells; the rare crustaceans drizzled with olive oil and lemon, and topped with a brunoise of celery, olives, and capers. Light and delicious.
The Pied de Cochon, pork shoulder, cheeks, and feet, lightly breaded and fried, is creamy, tender, and flavorful; the accompanying nutty lentils and bacon laced frisée help to cut through the fat. Rillettes de Porc, a paste of slow-cooked Berkshire pork in its own fat, is presented in a glass canning jar and paired with a Armagnac spiked prune jam. The texture is quite similar to cold, refried beans, which may not agree with everyone. Some mentioned the prune confiture to be too overpowering, but alone, the fattiness of the pork would have been too much. A better choice is the Terrine de Foie Gras, served with port wine gelée and a stack of buttery brioche slices. So damn good you'll want to ask for more brioche to spread that luscious duck liver on. Oreilles de Cochon continues down the pork-favored menu; golden triangles of crispy pig's ears served with béarnaise sauce. Silky, crispy, porky. Again, delicious. Fans of salt cod will appreciate the Boulettes de Brandade de Morue, pureed salt cod balls, perfectly fried, and served piping hot with a small bowl of saffron aioli.
Church & State features a selection of Alsatian tarts, which resemble crispy flatbread with toppings. We tried the Époisses Tart,  in which a layer of the namesake pungent cheese is topped with chanterelles, cubes of of smoky bacon, caramelized onions, and parsley. This was a fun dish to share, with a beautiful marrying of flavors and textures.
During dinner, we saw cute little cups topped with puffed pastry whizzing from the open kitchen to tables around the restaurant, and we just had to order some of our own. The Escargots de Bourgogne replaces the classic dimpled serving plate with snails (sans shells) baked in individual cups.  The golden pastry helps the snails steam in a bath of garlic and parsley butter.
My friend is a huge fan of bone marrow, so of course the Mœlle de Bœuf was a non-negotiable. The Flintstone-like bones are split lengthwise, allowing the fat to be seasoned and caramelized. Take a scoop of jelly-like bone innards, spread it on the buttery grilled toast, making sure to add a little scoop of radish relish as provided. The result is quite sumptuous. I have never really liked this dish elsewhere but Manzke's version is tasty.
Not to be missed, is the Pommes Frites au Lard. Yes, you read that right. No cholesterol-free vegetable oil here. Potatoes fried in lard. Just amazing. The lemony aioli is the perfect dipping sauce, no ketchup please!
The dessert list may look simple, but don't let that fool you. A few months ago I had the most incredible strawberry rhubarb crisp (which inspired my first journal entry). As I scraped every last remnant of the crisp, I scratched my head wondering how something so simple could taste so good. In alignment with the changing seasons, this time it's a version with peach, tangerine, and plum, with a quenelle of buttermilk ice cream. The Pot de Crème a la Vanille, boasting berries from Pudwell Farms, is smooth and satisfying. I usually scoff at the artisan name dropping, but the jewel-like berries have rightfully their stripes. The chocolate version, topped with caramel, candied hazelnuts, and fleur de sel, is equally decadent but a bit more rich.
In past visits we've also sampled the steak frites, duck confit, and mac & cheese, all quite good. There's still much more to try, so I'm certain we'll be back for more. The service while friendly, courteous, and knowledgeable, can be a bit sporadic as the restaurant hits full steam in the thick of dinner service. Somewhat understandable given the frenetic pace of the restaurant. However, even with different wait staff carting dishes to our table, our waiter always made it a point to stop by soon afterwards to explain each dish and offer any tips that might enhance or improve our tasting experience. As long as you have a few hours to kill, the slower service doesn't detract from the experience. And why should it? With all the awesome dishes and great downtown vibe, no one should be in any hurry to leave.
Church & State
1850 Industrial St
Los Angeles, CA 90021
(213) 405-1434