trekking to the Pacific Northwest in search of Portland's culinary scene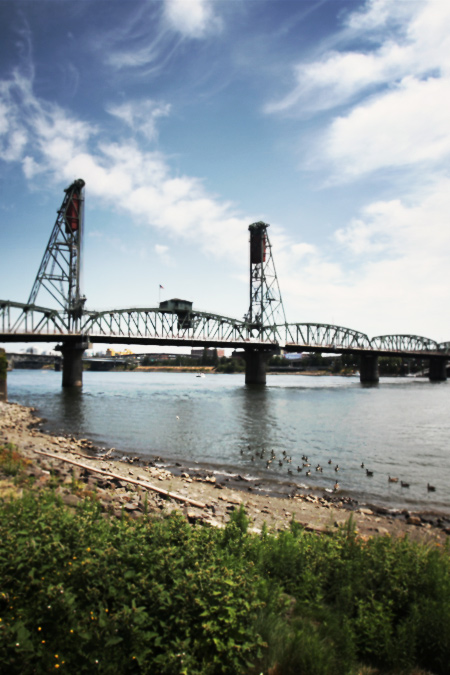 These days, it seems like it's impossible to read about up and coming chefs, innovative restaurants, and food trends without seeing a mention of Portland. My stereotypes about this city were ones which painted a picture of a small, eccentric town overrun with eco-fanatic, heavily tatted, Berkeley types that rode around everywhere on bicycles and hugged trees. While some of those notions have merit, little did I know I couldn't have been farther from the truth. There is much more to Portland than I had expected, and fortunately one of the most defining characteristics of this town is their food scene.
I can't remember the last city I visited where food was such and integral part of its DNA. Every chef, proprietor, and waiter seemed overly enthusiastic and genuinely proud of what they had to offer. Even residents had a higher sense of culinary awareness, and with all the great establishments sprinkled throughout the city, it's not hard to see why. The great thing about the Portland food culture is that it offers no pretense, no b.s., just simply the freshest, locally-sourced ingredients, a reverence for craft and tradition, dedication, and of course great people behind the food. You won't see a lot of foam, freeze-dried, spherified, geléed, and powdered this and that around these parts. What you do see is farm-to-table, an embrace of local and statewide producers, a respect for and close collaboration with farmers, ranchers, and foragers. Then there's the artisanal bakers, exemplary craft brewers, hardcore drink mixologists, homemade charcuteriers, and the crazy pickling culture. The list goes on and on. Though Portland isn't as tourist friendly in way of attractions as say its neighbor Seattle, it is definitely a food lover's paradise.
Clyde Common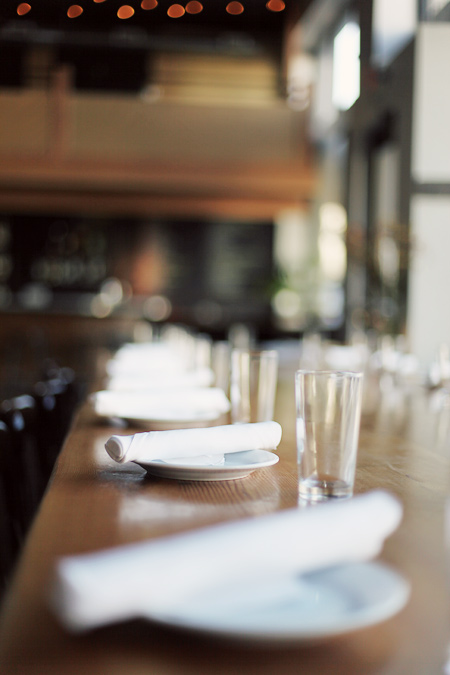 Since we stayed at the Ace while in Portland, Clyde Common (which is located in the hotel) was a convenient watering hole and refueling stop. The Clyde touts itself as a European style tavern, with a menu which draws inspiration from local suppliers and ingredients, while providing a cozy and modern space from which to dine on smaller plates and bites. The bar has an impressive array of American whiskeys, European bitters, and spirits from all over the world, from which they make their signature cocktails. This is where I first noticed that PDXers don't take their drinks lightly. Most of the non-bottled ingredients are meticulously prepared everyday, even the tonic water is house-made.
Clyde Common provided us a bite to eat after a late afternoon check-in, a place to unwind with a cold libation after a night on the town, and a quick meal before heading off to the airport. Though the food was decent and fairly solid, the Clyde paled slightly in comparison to the other fabulous meals we experienced during our visit.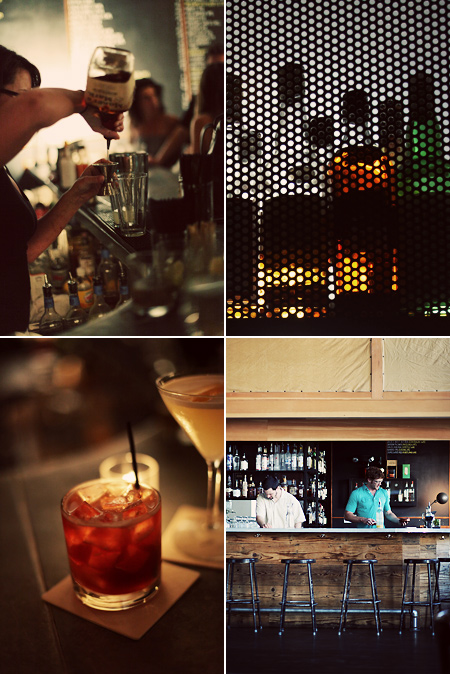 Clyde Common
1014 S.W. Stark Street
Portland, OR 97205
(503) 228-3333
Beast
One of the more highly anticipated meals of the trip had to be our visit to Beast. Named one of Food & Wine's Best New Chefs for 2009, Naomi Pomeroy has graced the pages of many a publication, earning praise for her rustic, French-inspired prix fixe dinners (and brunch on Sundays) served twice nightly in her small communal dining room. Two wooden communal tables flank a modest open kitchen, where the long, butcher block-topped prep space beckons you to tune into the calm, orchestrated production of the night's meal. Beast feels less like a restaurant and more like private dinner party. The communal seating forces even shy diners to get to know their table mates, and by the end of the night once strangers seem like old friends.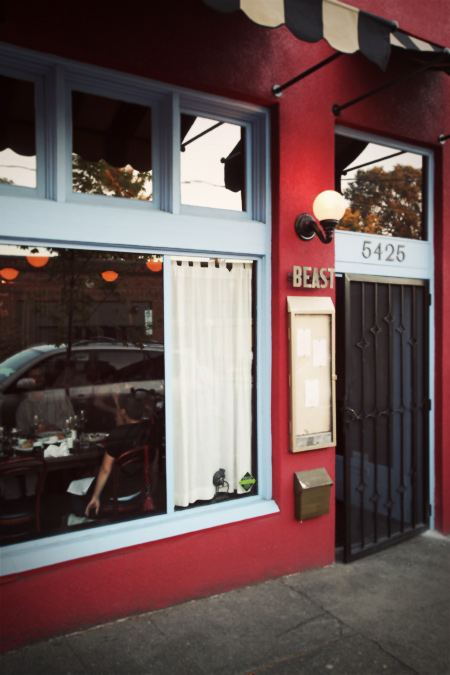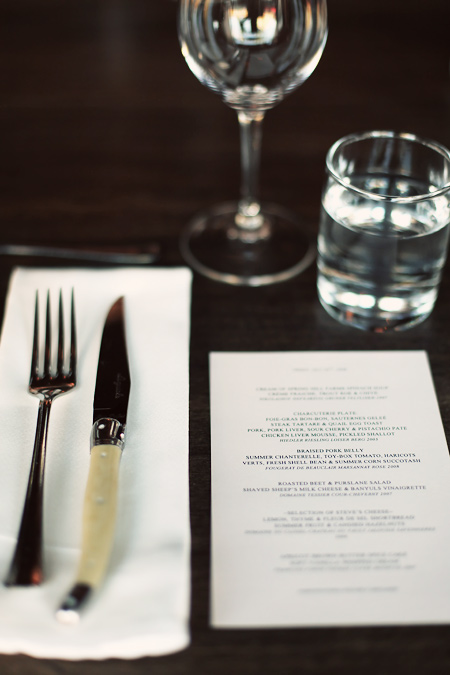 Unfortunately Pomeroy was absent the night of our visit, but the kitchen was in the good hands of sous chef Mika Paredes. The evening started off with a cream of Spring Hill Farms spinach soup, on which was floated a dollop of crème fraîche, and adorned with little tangerine jewels of trout roe and a sprinkling of chive. Refreshing and light, especially after a sweltering day in the summer heat.
The next course was Pomeroy's charcuterie plate, which included her signature foie-gras bon-bon with sauternes gelée and steak tartare and quail egg toast. Each bite was a decadent, delicious adventure, successfully teasing the palate with just enough to leave you wanting. As we delved deeper into the meal, I began to notice that each dish, even the often drab charcuterie plate, was visually stunning and multi-dimensional, which spoke volumes of Pomeroy's seasonal focus, and her artistic eye and feminine touch.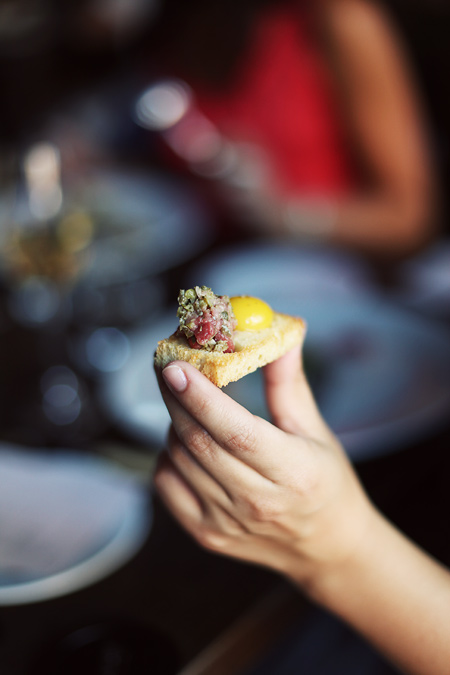 The third course was a cube of braised pork belly, resting on a bed of chanterelles, toy-box tomatoes, slivers of haricots verts, and a shell bean and summer corn succotash. The vegetables were so fresh and vibrant, somehow convincing enough to erase all guilt of consuming the tender, heart-stopping belly meat. The evening started its slow decent with a simple salad of roasted beets, purslane, and shaved sheep's milk cheese, and lead into a selection from Steve's Cheese, a local specialty shop here in Portland. A brown butter spice cake topped with vanilla whipped cream capped off the night, along with a few pieces of candied bacon to nibble on.
Though I wouldn't call Beast mind-blowing, I don't think it was meant to be. It's more about showcasing the quality of the ingredients, and altering them in the least possible way. I do have to say that the communal dining, laid back intimate surroundings, and Pomeroy's wonderful cuisine made the whole experience quite enjoyable and greater than the sum of its parts.
Beast
5425 NE 30th Avenue
Portland, OR 97211
(503) 841-6968
Saturday Market at Portland State University
A trip to Portland wouldn't be complete without a visit to the farmers' market at PSU. Nestled under a canopy of trees on part of the greenbelt that runs through the university and most of SW Portland, the market is bustling and brimming with purveyors from throughout the state and shoppers eager to fill their baskets with the absolutely freshest produce, meats, breads, and cheeses. We walked from stall to stall admiring all the amazing foodstuffs, secretly wishing we lived here so we could bring some home to our kitchen. Besides being a bountiful marketplace, the Saturday Market also serves as an urban hub; a place for families, friends, and students alike to meet and enjoy the beautiful summer weather.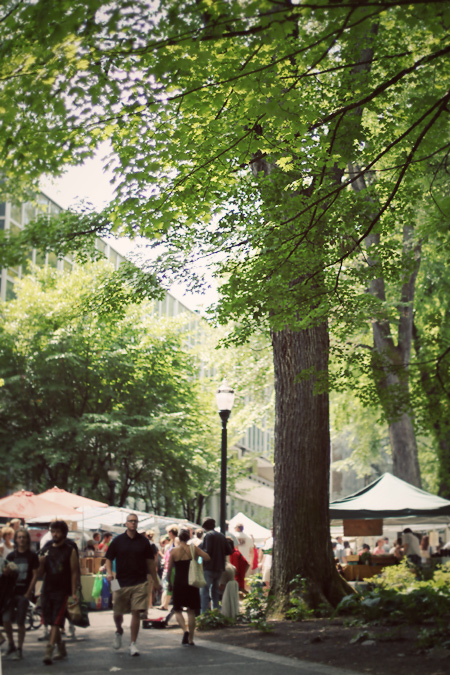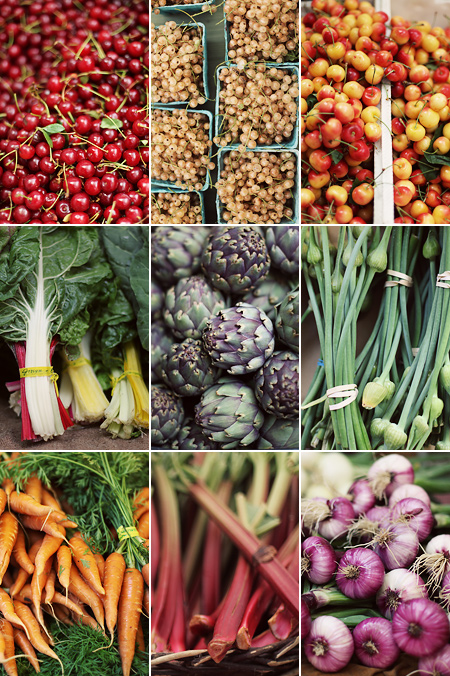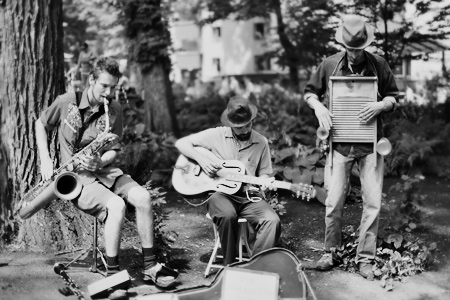 Pine State Biscuits
Though I love perusing farmers' markets at home and abroad, this visit had an ulterior agenda: Pine State Biscuits. From all my research online, this place was a non-negotiable. In 2006, Owners Kevin Atchley, Walt Alexander, and Brian Snyder started baking their famous cream-top buttermilk biscuits in their portable outdoor oven at the market. Two successful years later, they had a storefront in South East Portland, serving breakfast and lunch at a more permanent albeit tiny location. They still show up at the market these days (though reports mentioned their absence from time to time), a nod to their humble beginnings and a show of appreciation to their loyal customers. And the loyal customers do line up, to get a bite of that southern goodness. Pine State offers their biscuits with a few choice spreads (jams, butters, pimento cheese), smothered with sausage or shiitake mushroom gravy, or as a sandwich. I would definitely go for broke and order up one of the gut-busting sandwiches: the McIsley (fried chicken, pickles, honey, and grain mustard) or the Reggie (fried chicken, bacon, cheese, slathered with gravy, the Reggie deluxe adds a fried egg!). The fried chicken in these sandwiches is dangerously juicy; let down your guard and hot juices are bound to squirt and drip in all directions. It's fantastically good, probably one of the best fried chicken sandwiches I've sampled to date.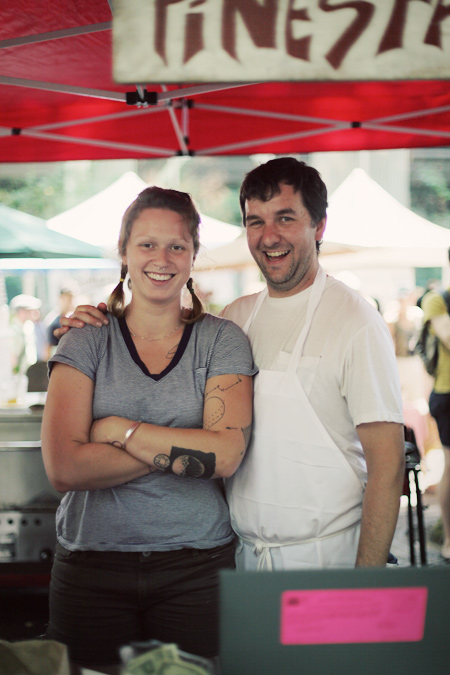 Pine State Biscuits
Saturday Market at Portland State University
SW Park Avenue & SW Montgomery Street
Portland, OR 97201
restaurant:
3640 SE Belmont Street
Portland, OR 97214
(503) 236-3346
Bunk Sandwiches
Still reeling from our grazing at the Saturday Market, we made our way to the central eastside to check out Bunk Sandwiches. Ever since I saw the full-page, drool-worthy photo of their pork belly bánh mì in GQ Magazine's Portland Food Guide, I knew Bunk would make the short list.  Tommy Habetz and Nick Wood opened up this little shop late in November of 2008, and has already gained national attention and a huge local following. Bunk serves up a rotating menu of both classic and more unorthodox sandwiches; from meatball parmesan heros and Italian subs to salt cod with chorizo and black olive, and porchetta with fennel, onions, and mustard. I would have loved to have tried such combinations like bone marrow and snails on toast, or oxtail confit with celery & hot pepper relish, or maybe the slow roasted pork shoulder with broccoli rabe. Though only approximately eight sandwiches are offered at one time, and change with the season and assumedly at the staff's whim.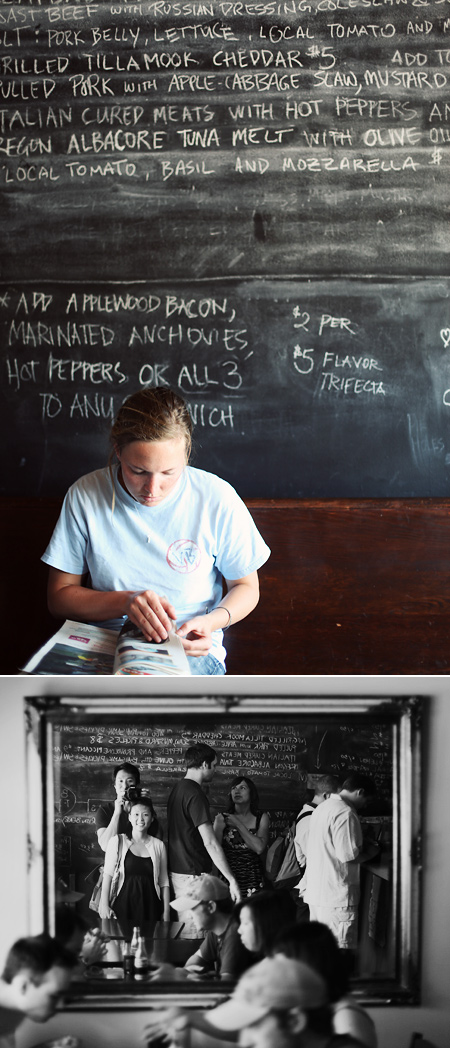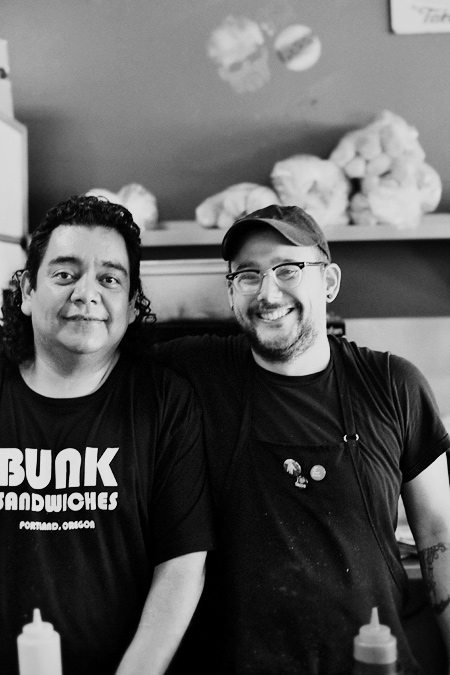 Unfortunately we only had room for one sandwich, the PBLT: tender morsels of pork belly, shredded greens, and juicy slices of ripe heirloom tomato. The sandwich, with its toasted white bread slices looked unassuming at first. One bite was all it took to think otherwise. The perfectly seasoned and cooked pork belly had the telltale signs of kitchen pedigree, and with staff's combined experience from such notable restaurants like Mesa Grill, Po, Lupa, and Brennan's it's hard to argue the fact. Besides the cred, the quality of the ingredients really shined and demonstrated the level of attention and dedication Bunk pays to the humble sandwich.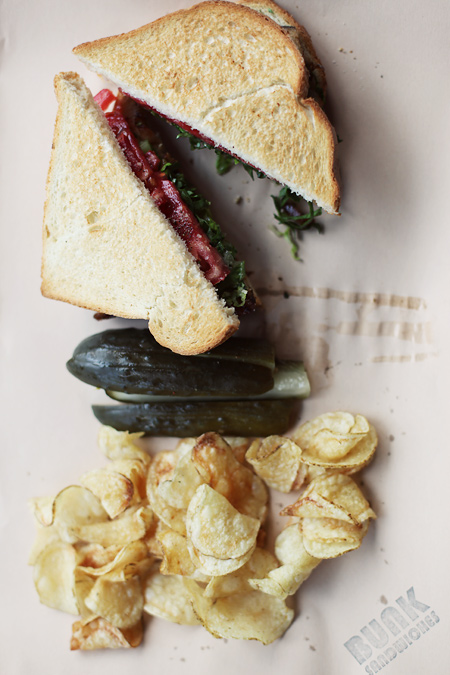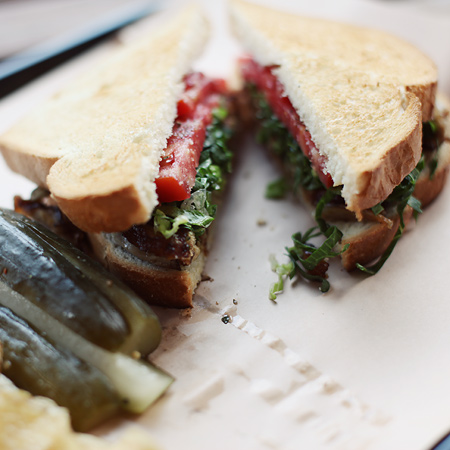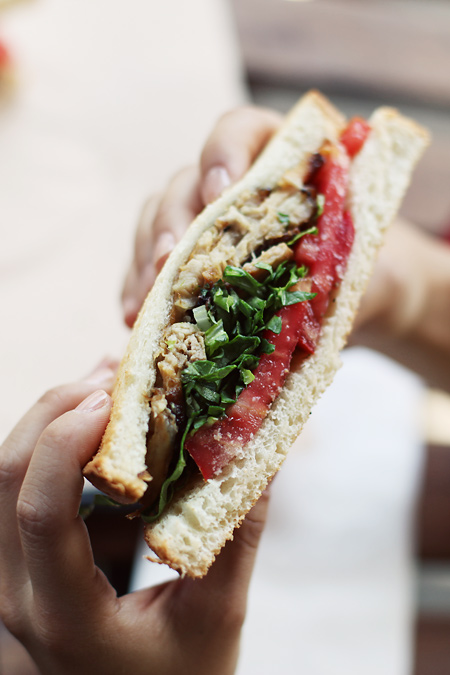 Bunk Sandwiches
621 SE Morrison Street
Portland, OR 97214
(503) 477-9515
There's still more to come on another entry, but I really need to take a break. All this reminiscing is making me hungry!