Thursday
Oct 15, 2009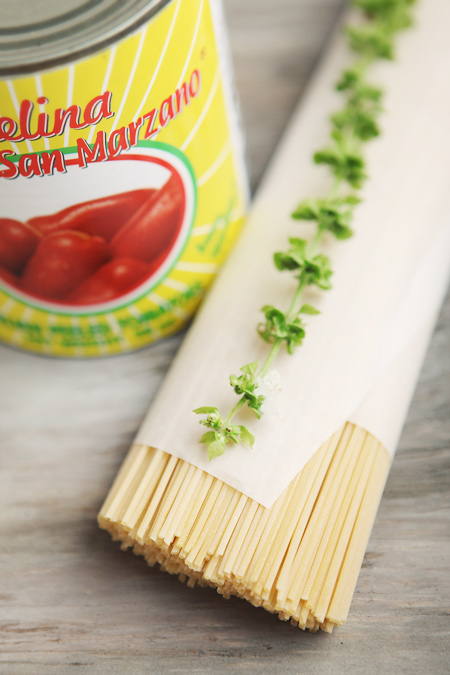 For someone who loves to eat, I often have very little in my refrigerator. At last check there was a half carton of eggs, a few styrofoam boxes of leftovers, some plain Greek yogurt, and more things than I care to admit that are way past their prime. It's times like this that I rely on my pantry for a quick and easy meal that doesn't require a trip to the market. There's always a consistent supply of canned tomatoes and dry pasta in my cupboard. A few heads of garlic are also always on hand, which store well in the dark with the previous two ingredients. A few snips of basil from the garden and you have the makings of spaghetti marinara. Bottled Kalamata olives and tinned artichokes make great additions as well, when you desire a little more textural and flavor contrast.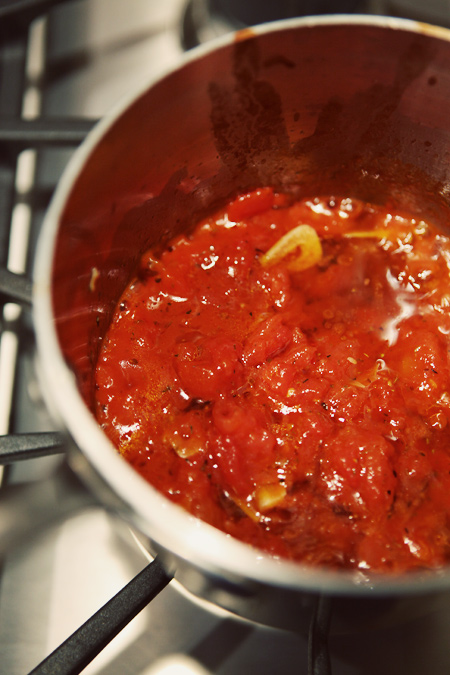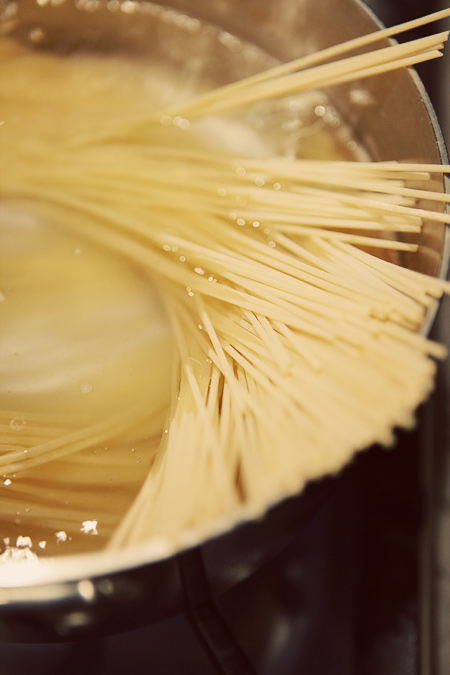 It's really quite simple. Start the water boiling for the pasta. You can basically have the tomato sauce done by the time the water boils and the noodles are cooked. Fifteen minutes tops. About the same time it takes me to drive to in-n-out, wait in the drive thru, and drive home. And it's healthier to boot as well.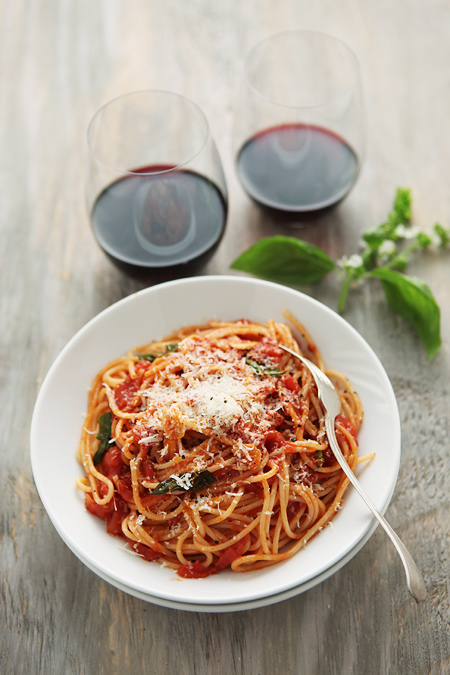 spaghetti marinara
good canned tomatoes makes all the difference. try a few different kinds from your local market and go with the ones with plump, intact fruit and juice that is nice and thick. imported Italian San Marzano tomatoes are usually expensive but great for a splurge.

1 28 oz. can whole plum tomatoes
2 cloves garlic, thinly sliced
1/2 teaspoon dried oregano
1/4 teaspoon red chili flakes
1/4 cup white wine
2 tablespoons extra virgin olive oil
basil leaves
Parmigiano Reggiano or Grana Padano
1/2 lb. dry spaghetti
salt and pepper to taste
pinch of sugar (optional)
Bring a pot of water to a boil. Meanwhile, add olive oil, garlic, oregano, and red chili flakes to a saucepan and warm over medium heat, around 2-3 minutes or until garlic just begins to sizzle. Crush tomatoes with hands or chop roughly with knife. Add tomatoes to saucepan. Add salt and freshly ground pepper to taste (adjust salt depending on the salt content in the canned tomatoes; if the tomatoes are salted, you will need little to no additional salt). Stir in white wine and heat for 3-5 minutes to cook off the alcohol. Add remaining juice from tomatoes to desired consistency (just enough so tomatoes aren't dry and are a bit saucy). Taste sauce and if it's quite tart, add a small pinch of sugar to balance out the acidity. Stir in basil leaves and reduce heat to low.
Cook pasta in boiling water for 8-10 minutes or until al dente. Drain and return noodles to pot. Add sauce to pasta and toss to coat. Add grated cheese, more ground pepper and serve.