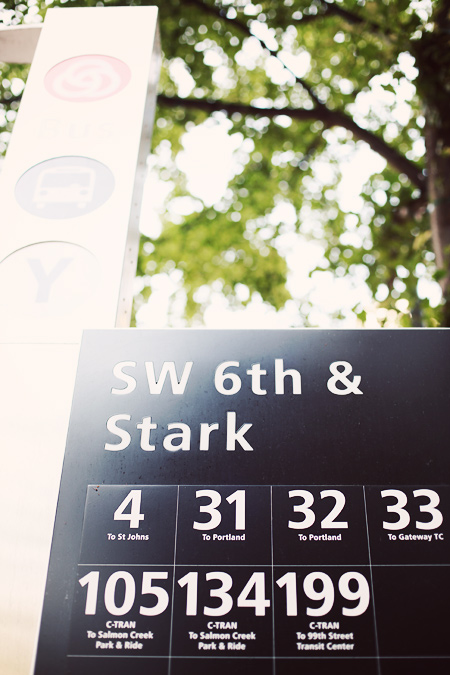 During our three days in Portland we made our way around using the city's excellent public transportation system. Though not as convenient as a big city subway, the combination of buses, streetcars, and light rail (with a lot of help from Google maps on the iphone) got us where we needed to go fairly easily and efficiently. Carting back across the city after filling our stomachs with Bunk's PBLT, we made our way northwest to Sahagun Chocolates.
Sahagun Chocolates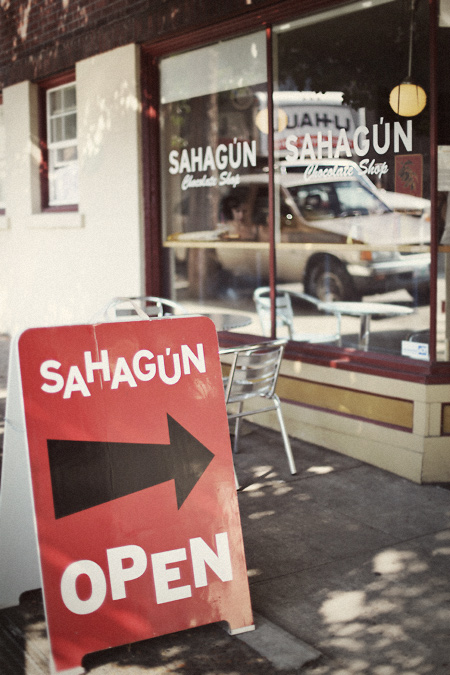 Another Portland delight which got its start at the Portland Farmers' Market, Sahagun is the boutique of chocolatier of Elizabeth Montes. Not to sound like a broken record, Montes proudly creates her confections flavored with locally sourced artisanal ingriedients, including the orange mint and rose geranium she grows herself. We sampled a few of the rich, silky chocolates (lavender and cardamom), the luscious caramel (a bomb of bittersweet chocolate with an explosion of salted caramel), and the surprisingly addictive B-side chile limón soda. I'm still kicking myself for passing up Montes' signature made-to-order hot (or iced) chocolate, which boasts melted single-origin chocolate!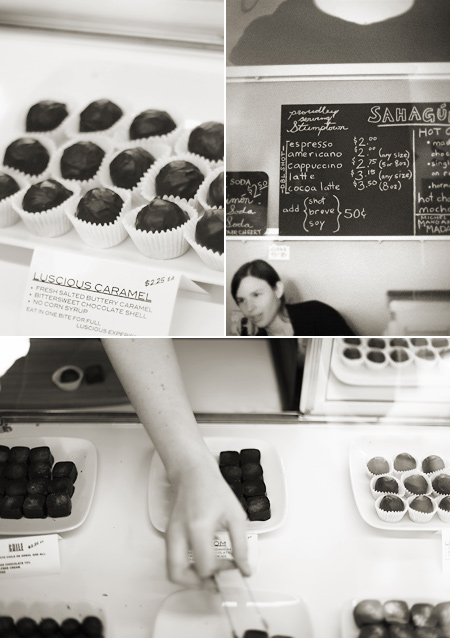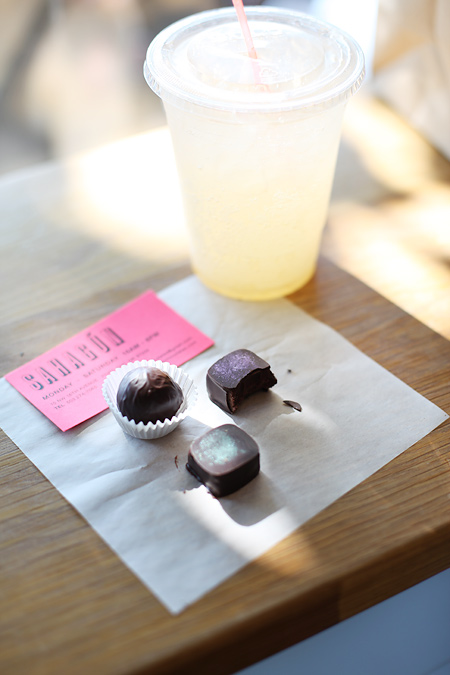 Sahagun Chocolates
10 NW 16th Avenue
Portland, OR 97209
(503) 274-7065
Toro Bravo
Sometimes the best dining experiences are the least anticipated ones. Our short weekend trip didn't provide us with enough meals in the day to eat to our hearts' content. With the overwhelming array of options and the limited dining opportunities, I had almost passed up Toro Bravo for another one of the many excellent PDX offerings. Spanish tapas didn't exactly scream quintessential Portland, and previous mediocre meals at seemingly similar restaurants left me wary. Good thing I stuck with my choice, as our meal at Toro Bravo was the most memorable one on our trip, hands down.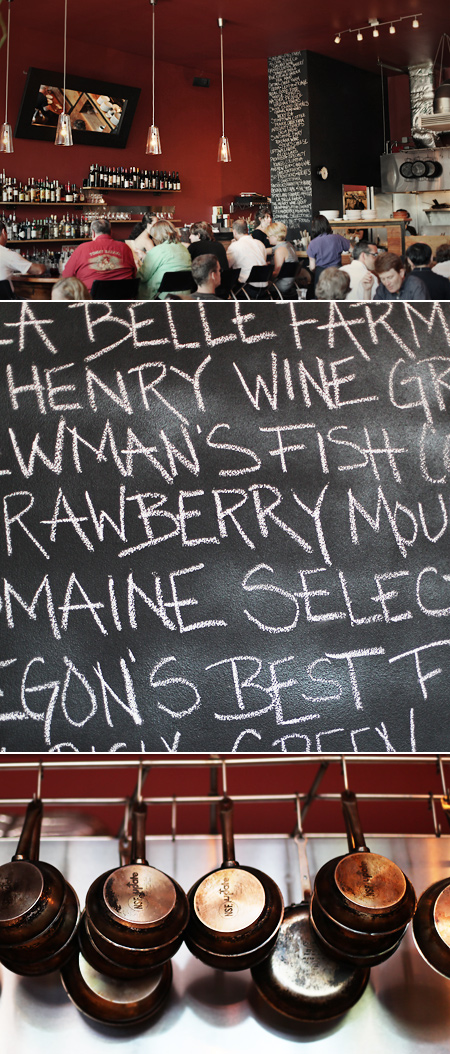 Chef/owner John Gorham pays homage to the Spanish small bites concept with inspired dishes of traditional ingredients and preparations, with a distinctive Portland sensibility. There's a dizzying assortment of dishes, which begs you to bring hordes of friends so you can sample every single item on the menu. Unfortunately that wasn't the case with us, so we had to make due with a smaller selection of tapas. Every item we tried, like the surprisingly simple but delicious radicchio salad (with the amazing green olive toast!), the hearty lamb ribs, the aromatic tuna with couscous, the French kisses (brandy soaked prunes stuffed with foie gras), was mind numbingly good, further supporting the fact that well-prepared rustic, honest food often trumps fussy, pretentious high-end cuisine. Toro Bravo is one of those places that you wouldn't mind flying a few hundred miles for… just for dinner. It's that good.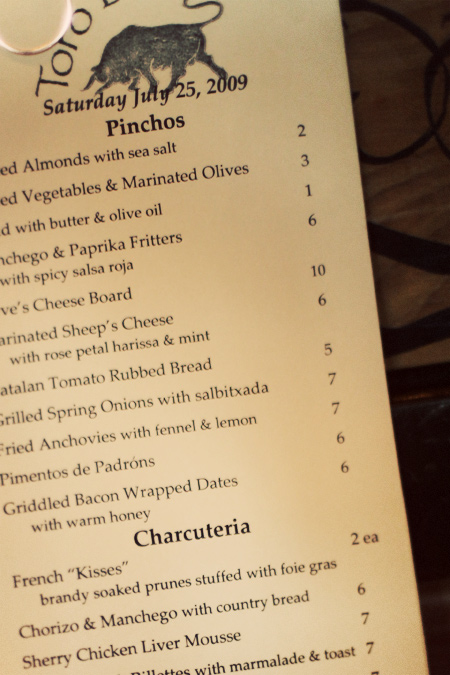 Toro Bravo
120 NE Russell Street
Portland, OR 97212
503.281.4464
Simpatica Dining Hall
Coincidentally, brunch the next day just happened to be at the place where Toro Bravo owner John Gorham got his start in the restaurant business. Simpatica began as a Sunday supper club concept, which served as a creative outlet for Gorham and co-founder Benjamin Dyer. It eventually developed into a successful catering business and restaurant, hosting dinners on Friday and Saturday evenings and brunch on Sundays. Simpatica's odd basement floor location and elbow-to-elbow communal dining are eerily reminiscent of dormitory cafeteria, but that's where the similarities end. Dinner revolves around an ever changing prix fixe menu (which keeps things interesting for both the chefs and clientele), and brunch is a selection of hearty, comfort food. Favorites include the Logger's breakfast (chicken fried bison steak with roasted potatoes, eggs, and country gravy) and the chicken and waffles.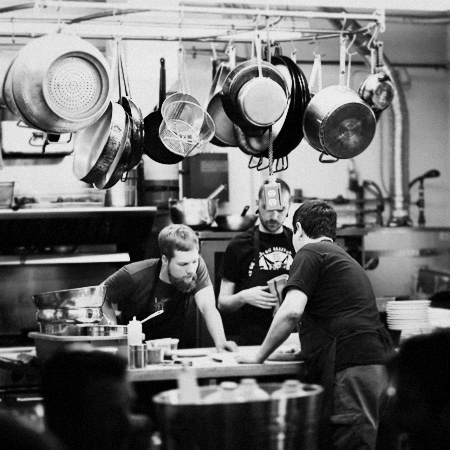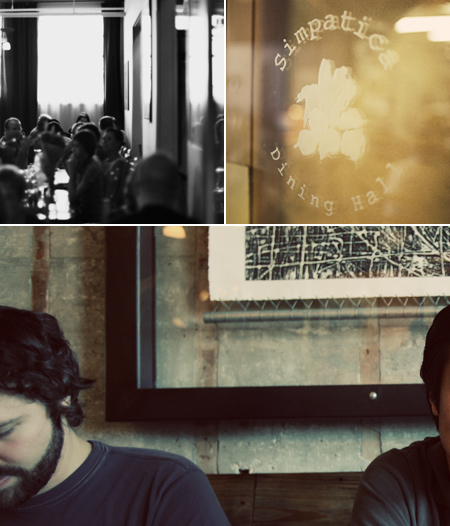 Simpatica Dining Hall
828 SE Ash Street
Portland, OR 97214
(503) 235-1600
After brunch we wandered around a little bit in the Pearl District, home to several blocks of unique boutiques and modern mid to high-rise apartments. Unfortunately it was so darn hot the camera stayed mostly in the bag.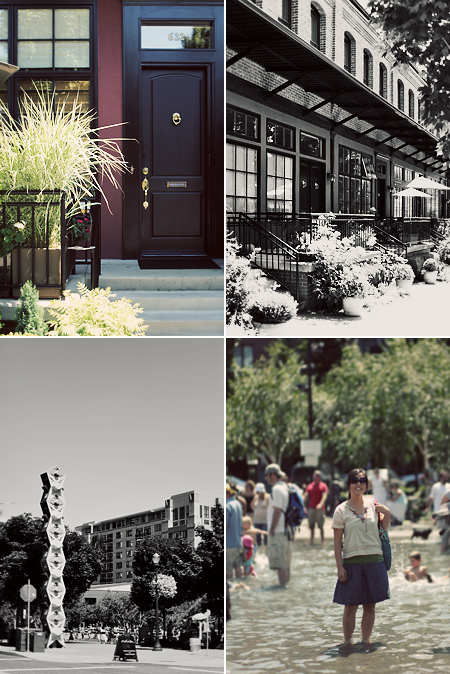 Cool Moon Ice Cream
After strolling around window shopping (in an usually hot summer heat wave), a great place in the Pearl District definitely worth checking out is Cool Moon. Not much needs to be said: rich, creamy, and decadent all-natural handmade ice cream… I'm sold.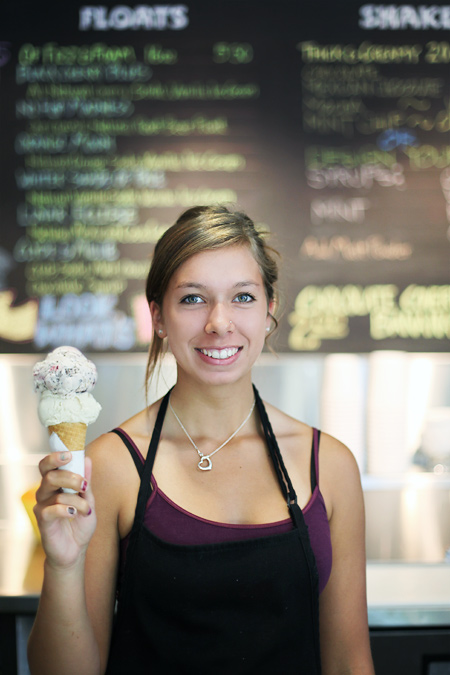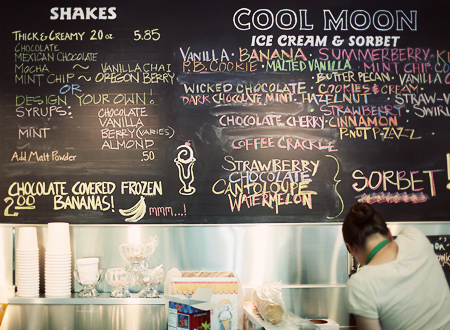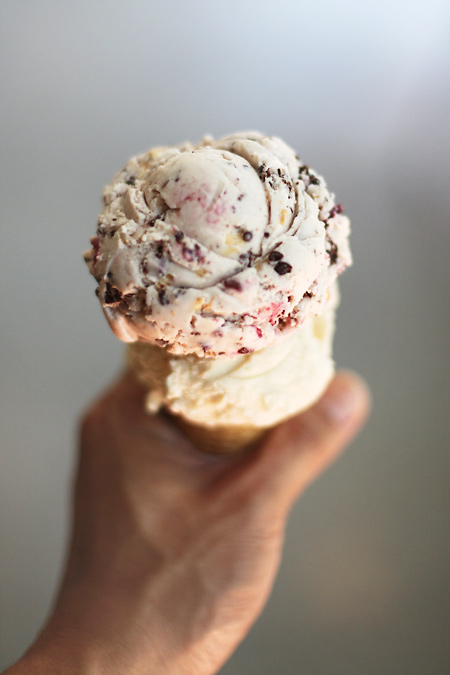 A scoop of bing cherry almond chip and malted vanilla, life sure is delicious.
Cool Moon Ice Cream
1105 NW Johnson Street
Portland, OR 97209
(503) 224-2021