whole hog choucroute garnie at Marché Moderne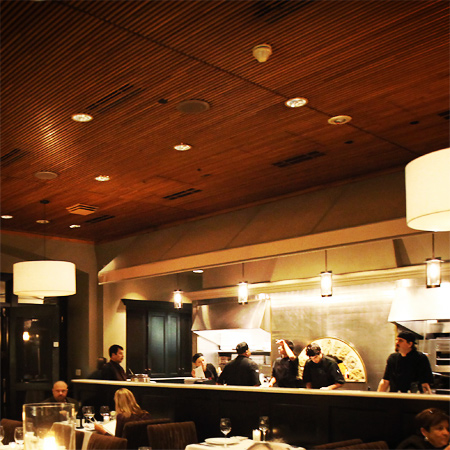 I wish I could say that I've been to the picturesque region in the eastern part of France, situated along the Rhine bordering Germany and Switzerland, and that I've enjoyed choucroute garnie and flammekueche in a storybook cottage restaurant, washed down with a few pints of local Alsatian beer. But I can't. My only real exposure to anything from Alsace has been from travel and food magazines, most recently from an article in Saveur about the beloved Alsatian dish, choucroute garnie (ok, I lied… I have had flammekueche before, but here in LA). When I heard Marché Moderne in Orange County was offering choucroute garnie as part of a seasonal tasting menu, I had to check it out.
This porcine-heavy dish, with obvious Germanic influences, consists typically of sauerkraut, potatoes, and various cuts and preparations of pork (bacon, sausages, smoked meat). Chef Florent Marneau has taken it one step further and has added a modern yet throwback twist to the classic: a head-to-toe rendition of choucroute garnie. In our offal-crazed, whole-animal-fascinated times, Marneau's version is a cornucopia of all things porky: braised cheeks, confit of short ribs & belly, crispy pig's ear, jambonneau tranché, ham-hocks au court bouillon, saucisse de Strasbourg fraiche, saucisse fumé, crispy pig's feet, all beautifully arranged on top of pressure-cooked sauerkraut, German butterball potatoes, and moutarde de Dijon.
The Choucroute Moderne & "The pig head to toe" as it's called, is offered with a selection of Alsatian wines and beers. I, along with the others that ordered the dish, chose the beer flight: six shot-sized samplers of brews from Belgium, France, and Germany. A flight of wines is also available. Don't be fooled by the pretty, linear presentation of the dish, along with the requisite frou-frou plate skid (of moutarde de Dijon). This baby is an overload of pork. Every texture, flavor, and incarnation is covered here, from crispy to chewy-gelatinous to fall-off-the-bone-melt-in-your-mouth, lean to silky,fatty, and buttery. I loved the experience of each preparation, and going from one to the next and comparing the flavors. Though I assume the wine-braised sauerkraut in this Alsatian dish is typically lighter in flavor and acidity than its Germanic counterpart, Marneau's is lighter than I would have liked;  I somewhat longed for that familiar pungent zing (more like the excellent pickles we snacked on before the main course), almost a necessity in this case to cut the richness of the meats. A few more potatoes (at least more than one meager ball) would have also helped balance the dish better.
Not everyone in the party was game for pork. Another popular choice was the lamb ribeye, couscous, and merguez sausage with cilantro chermoula, medjool dates, fresh garbanzo beans, mint emulsion, almond, meyer lemon confit, and zucchini. The lamb was succulent and tender, and the heady aroma of mint, citrus, and dried fruit evoked images of exotic Moroccan streets.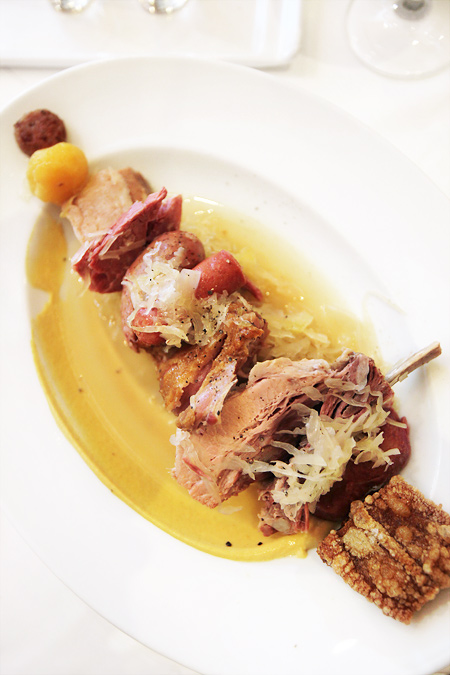 To round off the tasting was a wonderful dessert of apple tarte a l'Alsacienne, vanilla scented crème fraîche custard, and Chimay beer gelato. The tarte was delightfully sweet, crisp, and buttery, and the 'beer float' of gelato and Chimay was genius… I wanted a whole A&W sized mug to myself. If you want a little taste of Alsace, you can find it here (without a flight to France). Just be sure to head down before the end of the month (the two course menu is offered till November 30th).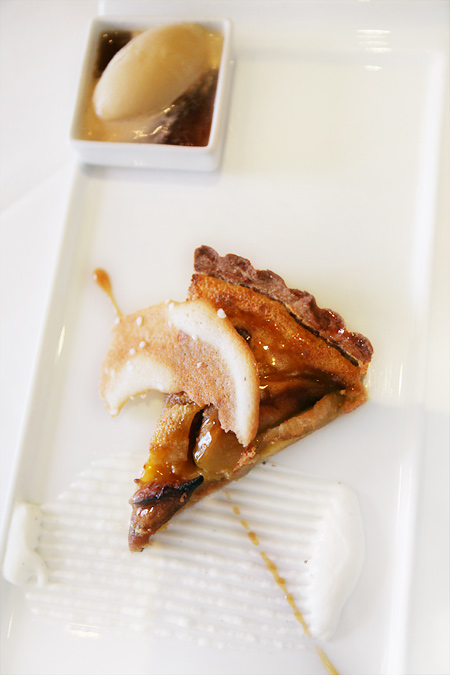 Marché Moderne
3333 N. Bristol Street, #3001
Costa Mesa, CA 92626
(714) 434-7900