tomato consommé martini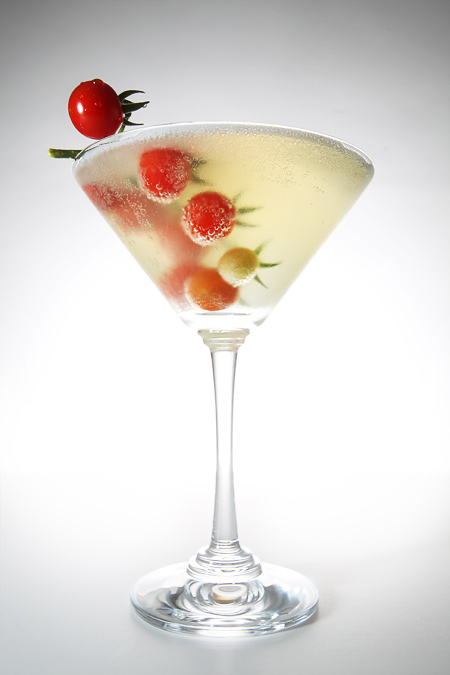 Tomatoes, tomatoes, tomatoes. I swear, I'm up to my neck in these ripe, juicy fruits that I'm beginning to doubt I'll ever be able to use them all. Yes, I could share the wealth and leave baskets of goodies at my neighbors' doorsteps, but if you know me and how often (or not) I speak to my neighbors, you would know this would not be a smart idea. I could can them for future use throughout the year, but that would mean actual work. So when I recently discovered the tomato consommé martini at the wonderful Kelly Liken restaurant in Vail, Colorado, I knew I had found at least one solution for my surplus of fruit.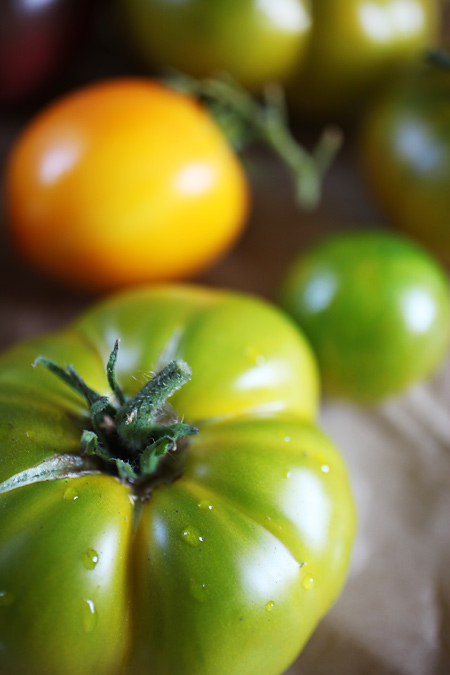 Though it might sound strange at first, this cocktail is very similar to one of my past faves, the dirty martini. It has the familiar savory, briny trademark of the olive-based drink, but with a light summery twist. The tomato consommé martini basically involves making a tomato water or consommé by puréeing ripe (preferably heirloom) tomatoes with garlic and optionally jalepeño pepper, and straining the liquid through a kitchen towel or cheesecloth. The process is a bit lengthy (the tomatoes need to strain overnight in the fridge) but is actually quite simple; definitely worth the trouble for a unique summer cocktail!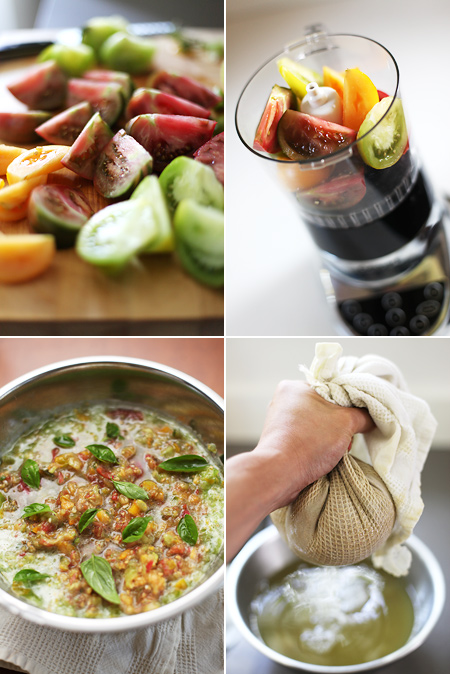 tomato consommé martini
The original cocktail at Kelly Liken is made from Colorado favorite CapRock organic vodka, a beautifully clean and round spirit distilled from Chambourcin grapes. Highly recommended if you can get your hands on some. Recipe yields approximately 2 cups of tomato water.

2 pounds ripe heirloom tomatoes, cut into wedges
1/2 small garlic clove
basil leaves, torn
kosher salt and pepper to taste
1/4 -1/2 inch piece of jalepeño pepper (optional)
Purée tomatoes, garlic, and jalepeño (if using) and a food processor or blender, working in batches if necessary. Place purée and basil in medium bowl, salt generously and add pepper to taste. Let sit for 1/2 hour to marinate.
Place kitchen towel or several layers of cheesecloth over a clean bowl. Add purée into towel, gather up four corners and using kitchen twine, tie a knot to secure bundle. Hang or suspend bundle over a bowl in the refrigerator overnight.
To make martini, combine 1 part consommé to 1 part vodka (more or less alcohol depending on your preference) in a shaker with ice. Shake well and serve with a garnish of cherry or grape tomatoes.