a couple of days in beautiful host city Vancouver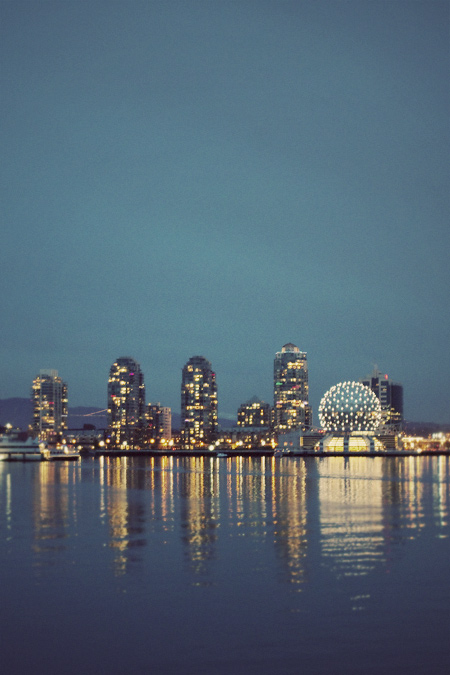 Vancouver has often been a layover point for me. It's the gateway to Whistler, the popular winter resort in the Pacific Ranges of British Columbia. From past snowboarding trips, I've seen Vancouver from the windows of a coach bus as it made its way from the airport to downtown, picking up snow-bound passengers from various hotels and shuttling them 80 miles north of the city. Obviously in the middle of winter, Vancouver is very similar to what you imagine any seaside town in the Pacific Northwest to be like; cold, wet, and blustery, the dreary weather further exacerbated by short days and long nights. I've considered extending my visits an extra day or so, to take in the city, but back then the thought was not terribly enticing on the tail end of an exhausting snowboarding trip. I have been to Vancouver once before in the summer, and the city, surrounded by emerald-blue waters and stunning vistas of the North Shore Mountains, positively sparkled. The residents definitely took advantage of the long summer days and beautiful weather, flocking to the cafes, shorelines, trails, and waterways that abound the city.
With the 2010 winter olympics right around the corner, and subsequent renewed interest in the region (a multitude of food and travel articles, of course), it seemed like a good chance to visit Vancouver and Whistler once again; this time with a couple of days to spend in the metropolis. Regardless of the bleak winter weather, Vancouver is a food town, one that can easily compete with the likes of San Francisco and New York (but on a smaller scale), and that was enough reason to overcome any previous hesitations.
Loden Vancouver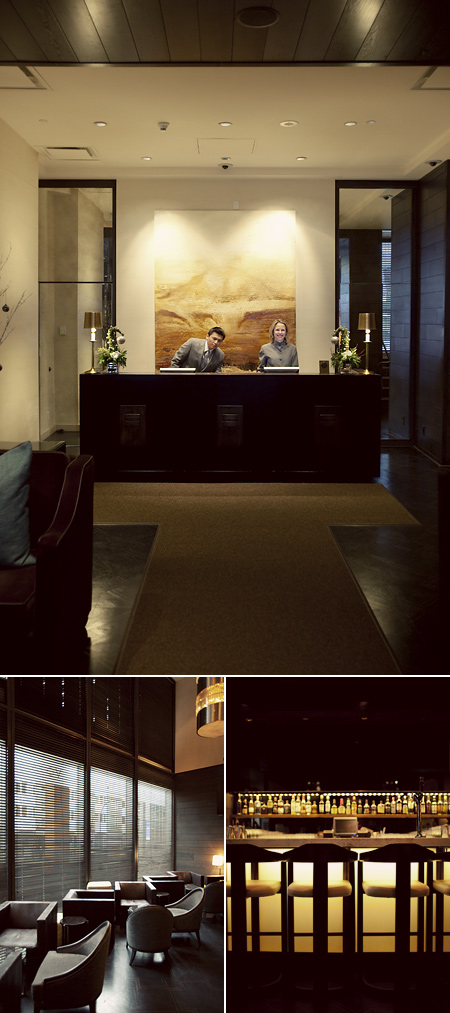 After a late evening flight from Los Angeles, our first stop and place of refuge was the Loden, situated on the fringe of the upscale Coal Harbor neighborhood in downtown Vancouver. This 77 room hotel is a prime example of what every boutique hotel should be: modern, sleek, luxurious, and comfortable, with well-designed and thought out rooms. Not too big, not too small. Service was top-notch, courteous, and never stuffy. We loved everything and every minute spent here, and to boot, the rates during this time of the year were a steal.
Voya, the in-house restaurant at the Loden is helmed by Marc-André Choquette, previously executive chef at renowned Vancouver mainstay Lumière (a place I wanted to try until I heard the Daniel Boulud empire took it over.) Usually shying away from hotel restaurants, I sort of overlooked this place. The dining room, chic in a 40's retro-glam sort of way, is elegant but cozy. We'll have to add it to our list for next time.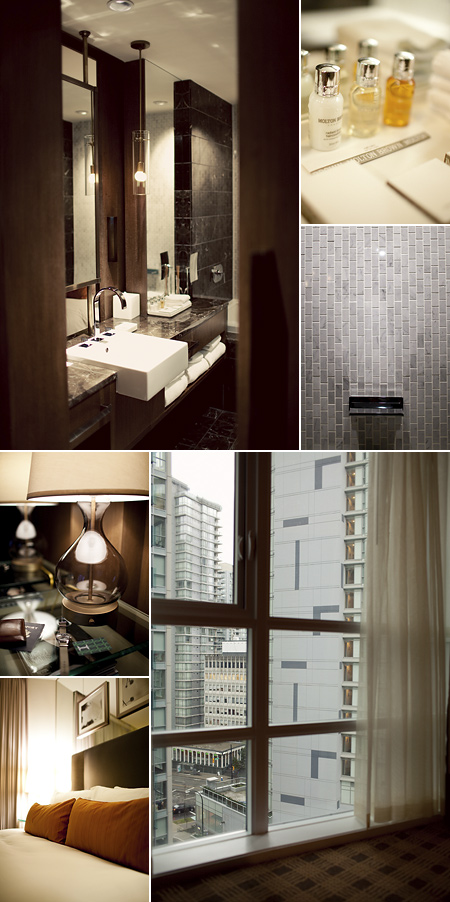 More often than not boutique hotels are no more than lipstick on a pig: old rooms with a fresh coat of paint, funky artwork, and designer toiletries, and yes, the obligatory neon lit elevators gently pulsating with deep house or downtempo. Fortunately for us the Loden caters to a more business-oriented clientele, and coddles the guest with refined interiors; dark wood-veneered panels, black marble tile, fluffy down pillows and sumptuous high thread count linens, with attention to detail that leads you to think that each room isn't mass produced but a luxurious personal residence. I found myself inspecting and admiring all the details, and couldn't stop wondering how I could incorporate some of the ideas into my own bedroom.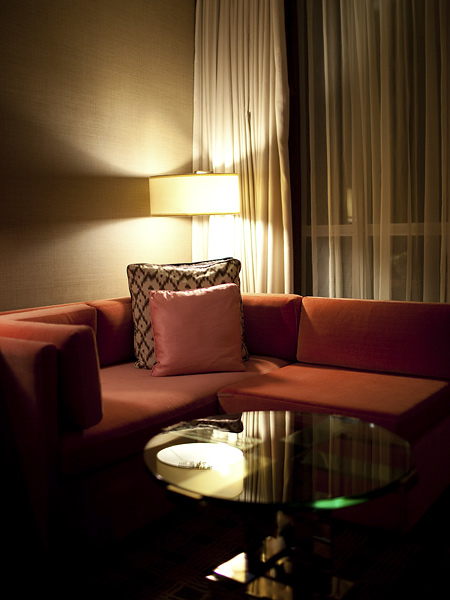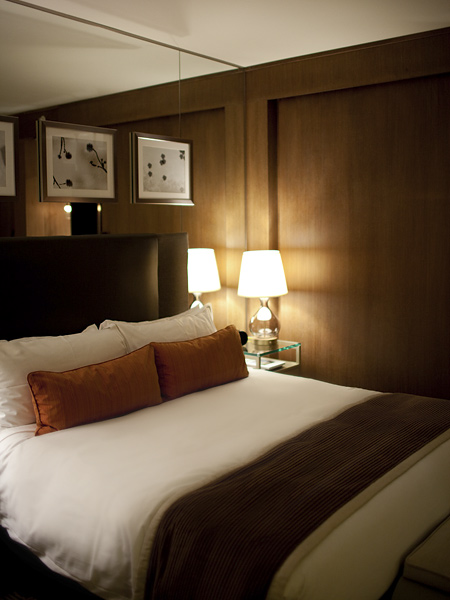 Loden
1177 Melville Street
Vancouver, BC V6E 0A3, Canada
(604) 669-5060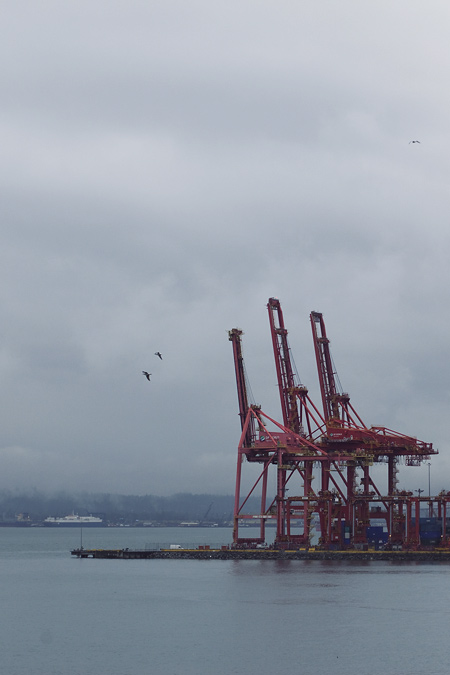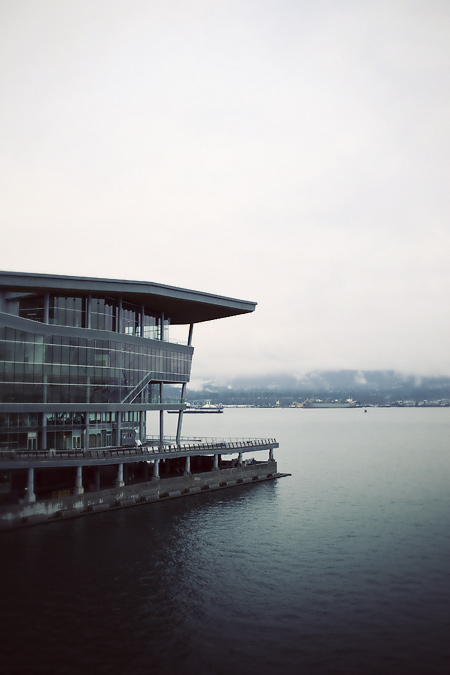 We woke up the next morning to luck would have it, clouds and a drizzling of rain (which would be the forecast for the majority of our visit). Armed with a hotel umbrella and warm coats, we headed out for a casual walk along the waterfront towards historic Gastown, where our first meal would be. Our reservation for lunch wasn't for another hour or so, and it wasn't long before we were distracted and decided to stop for a spontaneous pre-meal snack.
Miku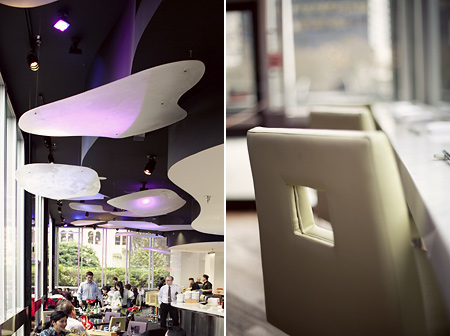 Located in a vast, light-filled space with floor to ceiling windows, Miku is the antithesis of the traditional Japanese restaurant. Its sleek and sculpted interior blends opulent materials like glass, leather, and marble with natural elements of river stones and sustainable wood. Their cuisine mirrors that same philosophy, marrying traditional Japanese preparations and techniques with local ingredients and Western influences. Miku's specialty is its aburi-style dishes, in which a torch flame is passed over a piece of hardwood onto fish or meat, searing and delicately smoking the food at the same time. We ordered the Miku Zen (a long bento box containing four seasonal items, ours came with a sweet and sour style karaage chicken, slices of tuna tataki with a sesame garlic sauce, a tofu salad, and a small bowl of noodles) and the premium sushi select (a combination of aburi, nigiri, oshi, and temari sushi). Both dishes were beautiful, with each item artfully prepared and presented with a keen regard to contrasting textures, colors, and flavors.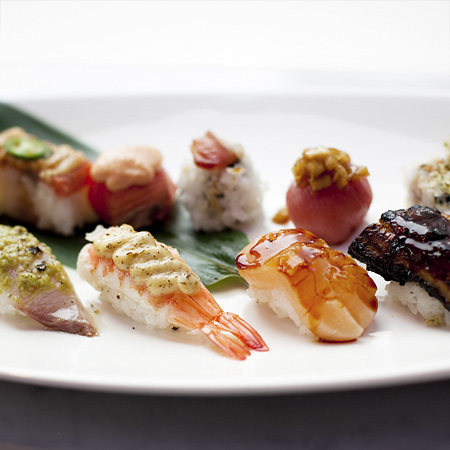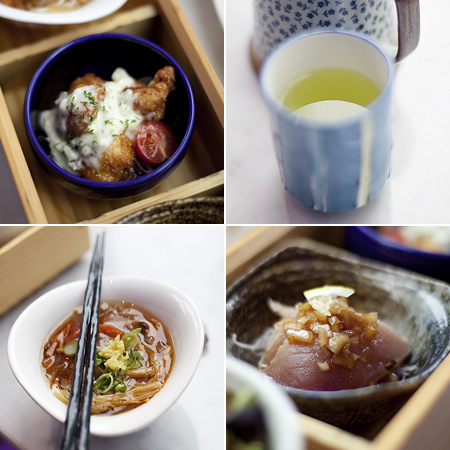 Miku
1055 West Hastings Street
Vancouver, BC V6E, Canada
(604) 568-3900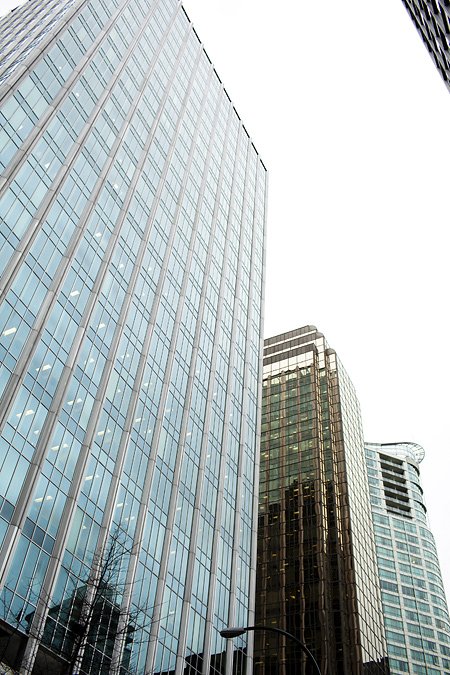 We worked off our snack with a walk around the city. Towering steel, concrete, and glass dominates downtown Vancouver, with skyscrapers and high rise residential towers defining the skyline of one of the most densely populated cities in North America. It's modern, chic, and clean, without feeling too cramped or congested.
The Gastown district, with its heritage buildings, brick sidewalks, and cobblestone streets, attracts tourists and locals alike. It's home to affluent city dwellers, high-end interior design boutiques, architecture firms, tourist-oriented shops, and a handful of bars, pubs, and restaurants.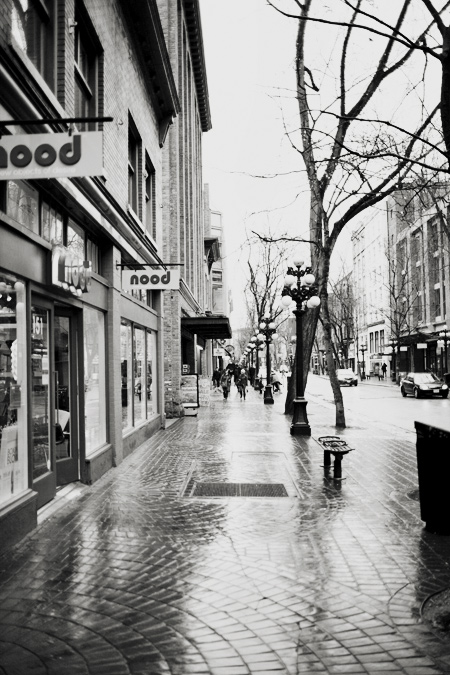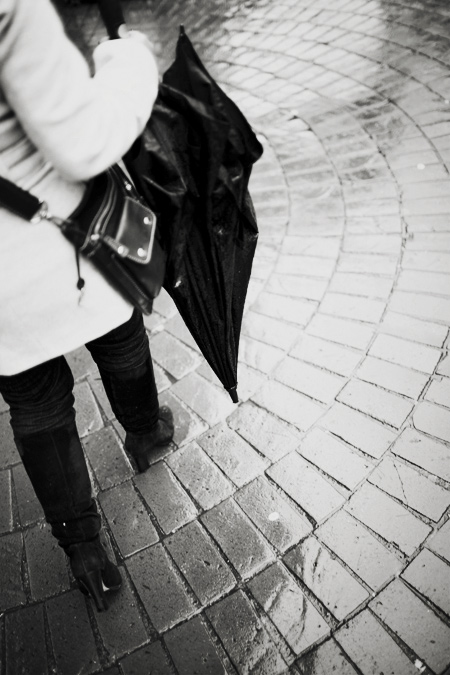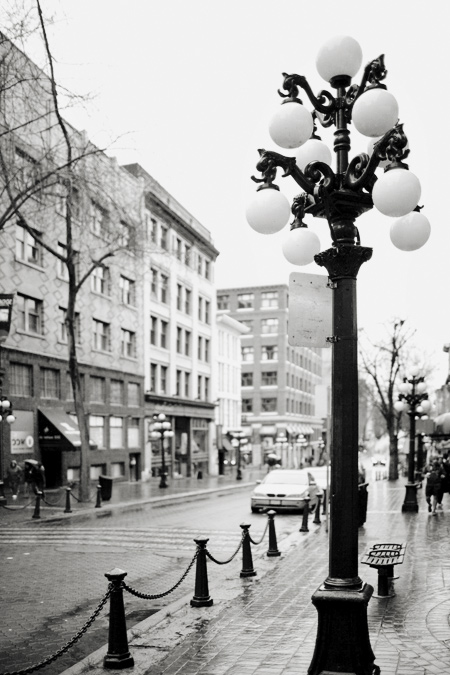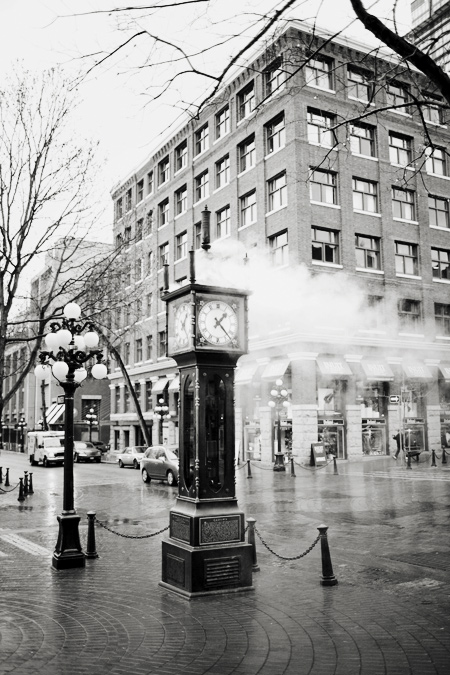 As we navigated our way towards lunch, and down a long, questionable corridor, I realized parts of Gastown could be a bit seedy and rough around the edges. But don't let that deter you from entering Blood Alley, or else you would miss Salt Tasting Room.
Salt Tasting Room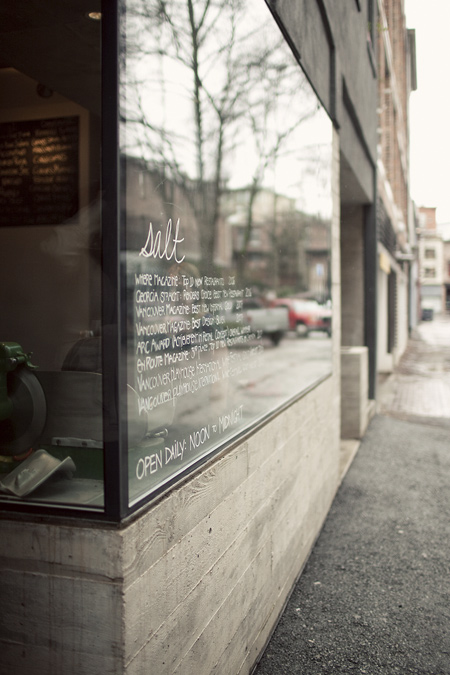 There's something intangibly attractive about salt. It's simple, basic, elemental. The same thing can be said about the Vancouver hotspot hidden away in a gritty back alley. As you enter the Salt, you notice the starkness of the decor, from the rough, wood-formed concrete façade and the old brick wall to the aged polished floors and bare filamented bulbs that glow above the long and narrow communal table. There's no kitchen. Just a bar and prep area. It's design distilled to its simplest form.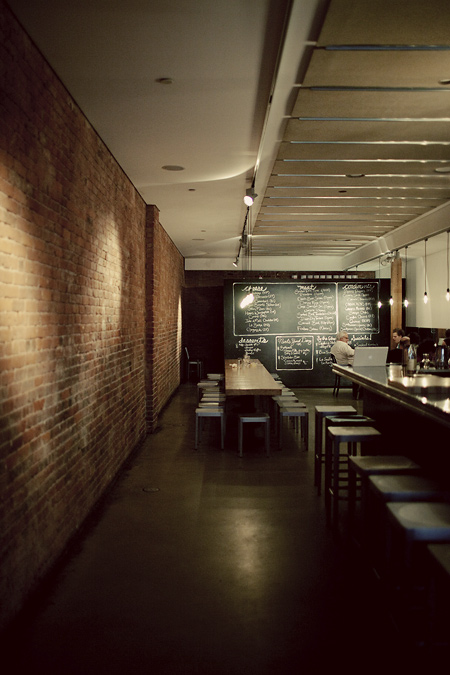 Not surprisingly, the menu at Salt follows the same concept. A chalkboard wall displays a menu of 10 cheeses, 10 meats, and 10 condiments, sourced from local artisans as well as far away places, all of which changes daily. Pick any three cheeses or meats, plus three condiments for $15, or for those decision-challenged, let the knowledgeable waitstaff do the work for you. Additionally, a flight of three wines can be had, of your own liking or paired to your charcuterie choices. With the exception of a couple of salads and desserts (and a daily special sandwich made from a selection of their meats and cheeses), that's it, no frills, nothing fancy.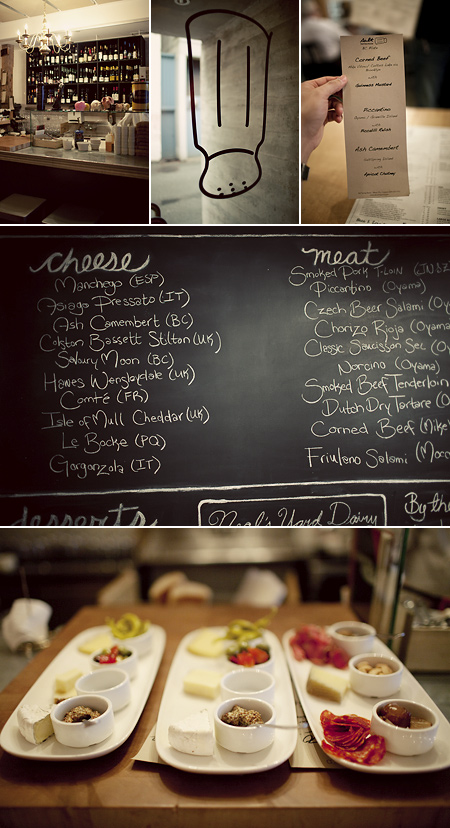 For our lunch we let the experts do the heavy lifting and chose the BC plate, which like it sounds, is a selection from the area's best purveyors. Of course a flight of wine was in order, and a shaved fennel salad as well, because we had to have our veggies. Our BC plate came with a tender, well-marbled corn beef from Mike Vitow on Granville Island, a spicy salami called Piccantino from local favorite Oyama Sausage Company, and a creamy Ash Camembert from Salt Spring Island. The salad was a bowl of lemony vinaigrette-tossed fennel and celery topped with slivers of French Comté cheese, which was a good counter to the rich meats and cheeses. We nibbled on these items, while tasting them with the accompanying condiments (Guinness mustard, piccalilli relish, apricot chutney), all the while discussing the beauty and complexity of our new-found wine discoveries from BC's Okanagan and Similkameen valleys (Road 13 Old Vines Chenin Blanc 2008, Pentâge Gamay Rosé 2007, and Orofino Beleza 2007).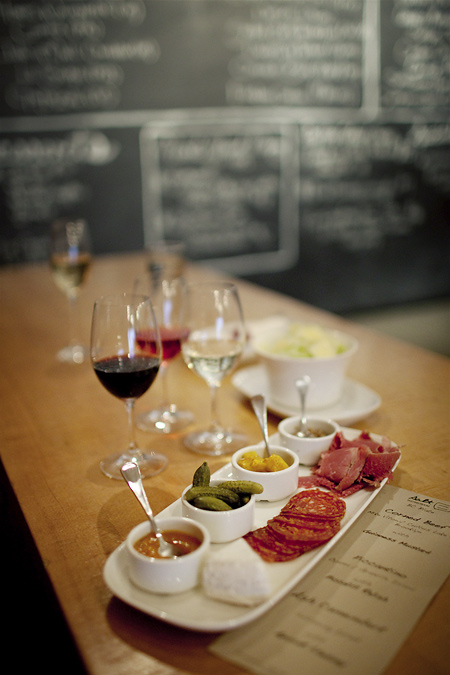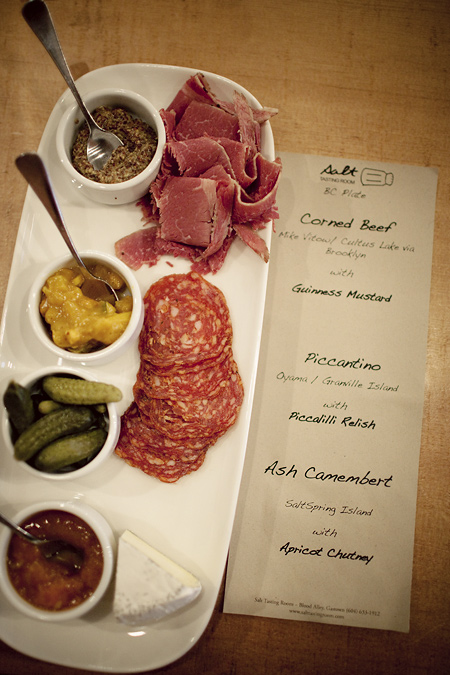 Sometimes, simple is what you want, and Salt delivers and does it it quite well. Meat, cheese, wine… I can't imagine a better way to spend a rainy afternoon.
Salt Tasting Room
45 Blood Alley Square
Vancouver, BC V6B 0C4, Canada
(604) 633-1912
Vij's
Even before Anthony Bourdain proclaimed owner Vikram Vij as one of his good chef buddies in Vancouver, I'm certain Vij's wasn't hurting in the popularity department. With the fame, exposure, and notoriety these food and travel shows bring, and a strict no reservations policy, it's not usual to encounter a two plus hour wait for a table at Vancouver's premier upscale Indian eatery. Good thing Vij and his staff are seasoned professionals, efficiently managing the long waiting list, tending to impatient customers in the small and cramped bar area with drinks and complimentary hors d'oeuvres. When your name is finally called, you feel as if you'd just won the lottery. Though the payoff isn't as sweet, the forthcoming meal is a more than satisfactory reward.
The dining room was smaller than I had anticipated, the dark and dimly lit space illuminated with jewel tones cast from stenciled elephant motif pendants (this made capturing photos of the food a tad difficult, with the results looking like a bollywood photoshoot gone wrong). A long rectangular cutout gave view to the all female kitchen, an ensemble that was unusually calm and collected throughout the evening. The air, punctuated with the heady aroma of sweet spices, was alive the sounds and chatter of happy customers.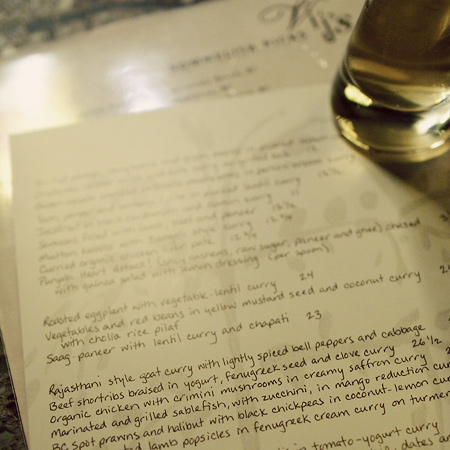 We had plenty of time to look through the menu while waiting at the bar, a mouthwatering collection of dishes that celebrated the bold flavors of India and the wonderful ingredients available in BC. We settled upon a couple of appetizers, the grilled paneer with navy and green beans in a pickled lemon curry, and garam masala sauteed portobello mushroom curry in porcini cream. Our main courses were the BC spot prawns and halibut with black chickpeas in coconut lemon curry, and the signature wine-marinated lamb popsicles in fenugreek cream curry on turmeric spinach potatoes.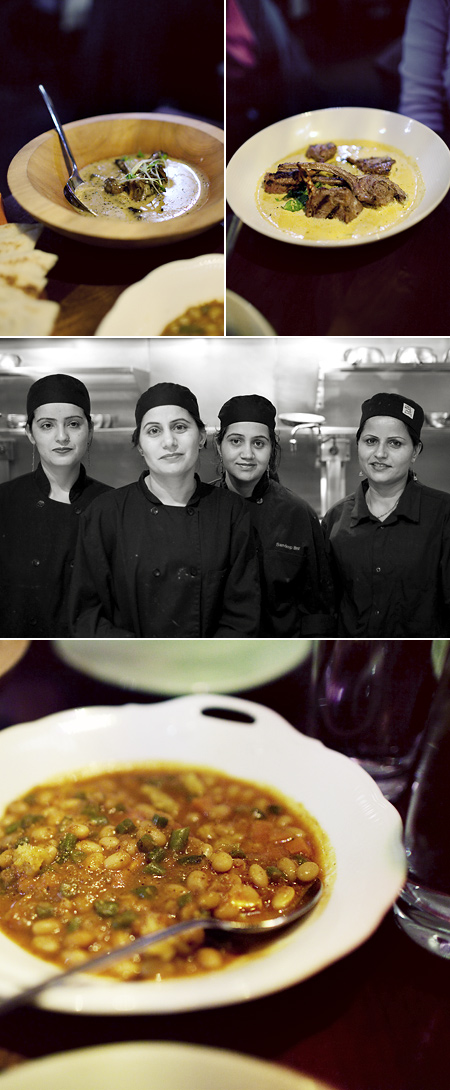 All the dishes had the comforting richness and heat you've come to expect from good Indian cuisine, but with ingredients that are a bit unexpected though refreshing. The thick slices of piquant portobello enveloped in silky porcini cream were so hearty and satisfying that you could imagine going vegetarian. The lamb 'popsicles', grilled juicy and medium rare, are on their own decidedly more western, but are anchored with a vibrant turmeric and fenugreek-laced sauce that is perfect for dipping and eating sans utensils. The sweet morsels of Pacific halibut and diminutive but delectable spot prawns, paired with earthy beets and nutty chickpeas, exemplified the quality and freshness of the local seafood. It's interesting to note that the female chefs are all vegetarian, cooking such dishes as beef shortribs, goat curry, and grilled pork tenderloin all by smell. Amazing. Goes against the mantra of all good chefs to taste, taste, and taste!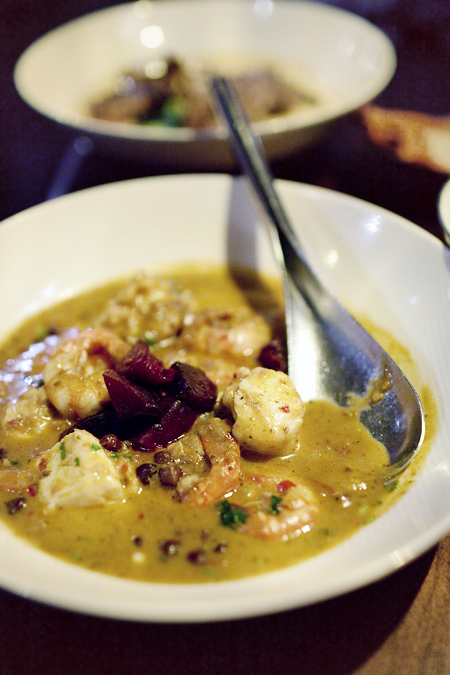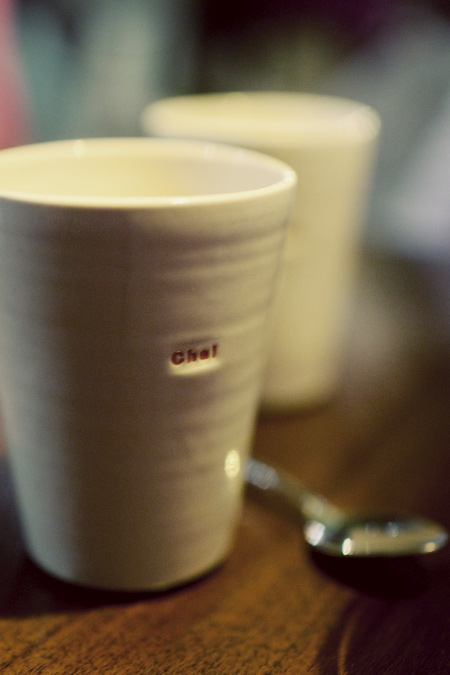 We end our long night and fabulous meal with a few hot mugs of chai, and my favorite Indian sweet, gulab jamun. And yes, big smiles and happy stomachs. In my book, Vij's gets top honors on style, creativity, and execution; definitely gold metal material.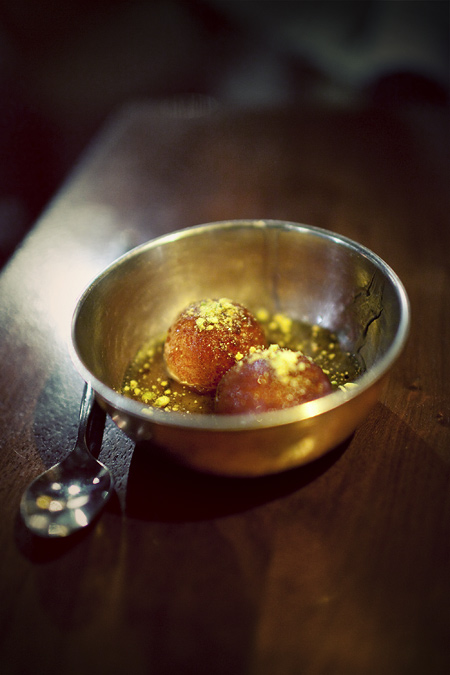 Vij's
1480 West 11th Avenue
Vancouver, BC V6H 1L1, Canada
(604) 736-6664
Up next, snow-bound to Whistler!