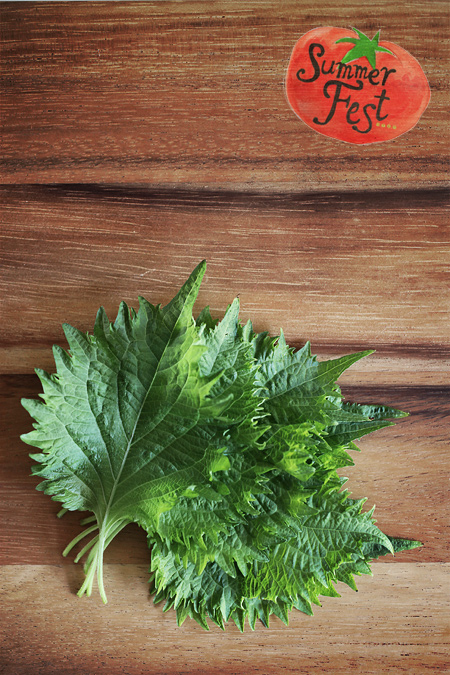 I saw this post about summer fest on mattbites, so I thought I would join in on the fun. If you're a fan of Japanese food, shiso needs no introduction. It's unique flavor and floral aroma I find, tastes like mint, basil, fennel, cilantro all rolled into one. Shiso is commonly served with sashimi and sometimes tucked under nigiri like ika (squid sushi). Chiffonade of the herb tops rice bowls, salads, and pastas. The leaves can be found in Japanese and Korean markets, and is also refered to as ohba (the term used when accompanied with raw fish), perilla, or Japanese beefsteak plant. I found shiso seeds a few years back at my local Armstrong Garden Center (to my surprise). Shiso grows extremely well in hot climates, and will tower about 3 to 4 feet high with its frangrant fringed-edged leaves. I've grown shiso for the past 2-3 years, and it usually ends up serving no purpose besides adding some nice greenery to the garden. So this year I decided to make better use of this quite awesome herb. My plants this year were overshadowed by the crazy mess of a tomato patch, which has taken over the whole space (and then some). Fortunately, the shiso still managed to produce some usable leaves.
One of my favorite uses for shiso is for grilling. The herb imparts a subtle perfume and herbaceous quality when wrapped around meat and grilled. Shin Sen Gumi (the local yakitori shop) marries shiso beautifully with pork belly. The pork belly in this case,  is wrapped around the shiso, possibly to protect the herb from the intense heat of the robata grill. When skewered and grilled over Japanese oak charcoal (binchotan), it's just sublime.
Another regular order for me while getting yakitori is tori no tsukune, or grilled chicken meatballs. Torehei in Torrance makes a killer one. Their version utilizes jidori (free range) chicken, and while softer in texture to most I've sampled, they include bits of cartilage that adds a nice crunchy contrast. Though I doubt shiso is commonly used in the meatballs (maybe it is? I don't know), I decided it would be a nice touch.
So I headed off to Marukai in Gardena to get some goodies in order to make these two dishes. Like a kid in a candy store, I got a little carried away. I came home with all the ingredients, plus a mini hida konro (Japanese charcoal grill), binchotan, and the same cute bamboo skewers (kushi) they use in the restaurant!
The pork belly and shiso was fairly straightforward. Just wrap and skewer. The tori no tsukune recipe I found from Tess' blog (Thank you, Tess!). The little grill as you can see from its size, isn't going to cut it for more than one person (I couldn't part with the $50 required for the larger one. This cheap one was only $8.)  But it was fun playing with it, and boy for its size, the grill and the Japanese charcoal puts out tons of heat! While we persevered and cooked the pork belly on the 'lil grill that could', I put the meatballs on the trusty gas Weber.
Well, I'm happy to report that the Japanese grilling slash shiso experiment came out great. The pork belly was just as good as the restaurant version, and the tori no tsukune was quite good as well. I probably could have cooked the chicken a bit less, but for the first time I erred on the side of caution. They were delicious nonetheless.  All these two needed was a nice cold Sapporo (which we had) and all was good.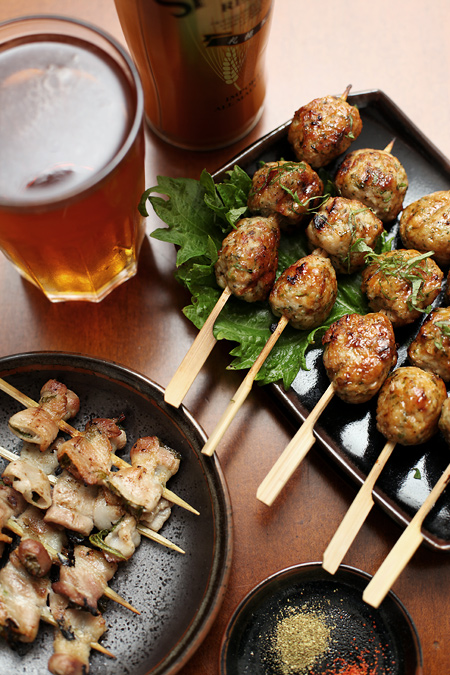 pork belly and shiso skewers
Sliced pork belly, basically bacon that hasn't been seasoned and cured, can be found in Asian markets. Bacon could be substituted, just don't season with salt. Makes 8-10 skewers.
1/2 pound sliced pork belly
8 shiso leaves, cut into 1 inch slices
8-10 bamboo skewers, soaked for at least 1 hour
salt and pepper to taste
Slice the whole portion of pork belly into thirds. Place pork into freezer for 5 minutes or so to firm up, since the fat will be easier to skewer when cold.
Remove pork from freezer. For each small slice of pork, put a piece of shiso in the middle. From one side of the slice, fold 1/3 over the shiso, then fold the other side over (like you would fold a letter to fit into an envelope). Thread three pork and shiso packages onto each skewer.
Grill skewers till lightly brown on both sides, making sure to season with salt and pepper.
tori no tsukune (grilled chicken meatballs)
Adapted from Hiroko Shimbo and Tess' Japanese Kitchen. Makes 6 skewers.
7 ounces ground chicken thigh meat *
7 ounces ground chicken breast meat *
1/2 teaspoons salt
1/2 teaspoon black pepper
3 scallions, green and white parts, minced
8 shiso leaves, minced *
1 teaspoon peeled, finely grated ginger
1 egg white, lightly beaten
2 teaspoons sesame oil
1 to 3 tablespoons vegetable oil
sansho pepper or shichimi togarashi * (Japanese seven spice blend)
yakitori sauce *
6 bamboo skewers, soaked for at least 1 hour
Add ground chicken meat to a medium bowl and add the salt. Squeeze the mixture with your hands until the mixture becomes sticky and pale pink in color. One at a time add the black pepper, onions, ginger, and egg white. Squeeze the mixture after each addition. Add the sesame oil and mix. Put this mixture into the refrigerator for about 20 minutes to chill.
Oil your hands and form the ground chicken into 18 – 1 1/2 inch balls. As you form the meatballs, place them on a large oiled plate and press a small depression in each to facilitate even cooking. When you have shaped all of them, heat a large heavy skillet over medium-high heat. Coat the bottom of the skillet with a film of oil and fry the meatballs in batches over medium low heat. Don't cook them all the way through; you only want to cook them until they turn white and firm on all sides. Drain the meatballs on paper towels. Let them rest for 10 minutes.
Or you can prepare the recipe to this point and finish cooking later in the day. Let the meatballs come up to room temperature, about 20 minutes.
Thread three meatballs on each skewer. Grill or broil until golden, turning once. Brush the skewers with the yakitori sauce. Grill until dry, about a minute or two. Repeat the saucing and drying process, and then remove the meatballs from the heat and baste them once more.
Serve hot, sprinkled with sansho pepper or shichimi togarashi.
* Ground thigh and breast meat can be found at most Asian markets. If you can't find it, buy boneless pieces and hand chop or use a food processor. Shiso can be found in Japanese and Korean markets, sometimes labeled perilla or ohba. Sansho pepper and shichimi togarashi can be found in the spice aisle of Japanese markets. Yakitori sauce can also be found in Japanese markets, or you can make your own.