revisiting Father's Office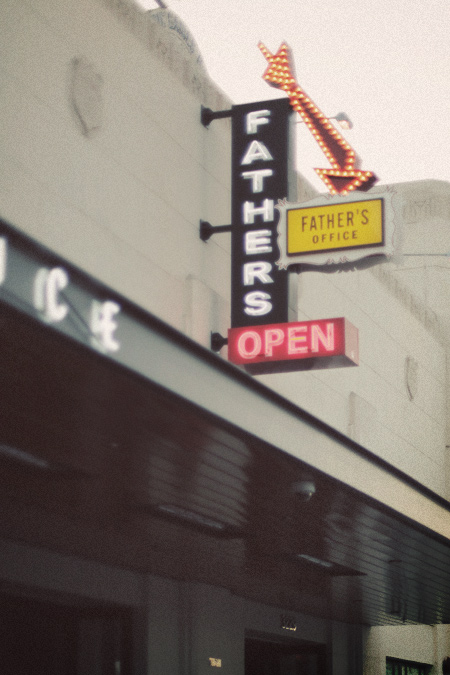 Sang Yoon had a great concept when he first created the original Father's Office in Santa Monica. Lets open up a little neighborhood bar, deck it out minimally in blonde wood, pour obscure, hand-picked microbrews, and serve up tasty food to compliment the beer. With pedigree from nearby Michael's, ex-executive chef Yoon wasn't going to offer hot wings and beer nuts. The fare would be food he would personally want to nosh while getting his drink on. Best way to describe it: Tapas meets bistro. An array of Spanish influenced bites and small plates, tasty salads, french classics like roasted bone marrow, steak au poivre, duck confit, frites. Well, the food caught on, and the fans came in droves. FO became one of the most frustrating and challenging dining experiences most people would ever encounter. I guess that's what happens when you try to serve sought-after food in a broom closet. Their 'order at the bar, then find your own seat' policy was obviously ill suited for such a small space. Finding a table here was reminiscent of parking on campus during my college days, a cutthroat and often nasty affair. Students would circle the parking lot, stalking would-be departers and open spaces like vultures to a poor dying animal. Squabbles and fits of cussing and finger gesturing frequently ensued. Securing a table was somewhat similar at Father's Office. The lack of seating inevitably leads to masses of impatient patrons hovering over tables, uncomfortable searing of eyes and muttering under breaths. Not always a fun experience.
So when the much anticipated Father's Office in Culver City (coined FO 2.0) opened its doors last year, I wondered if Yoon and the gang had improved upon the original version. Even with the hype and buzz that usually surrounds a newly hatched hotspot, 2.0 seemed more accessible. Maybe it was the parking, or the relatively larger capacity plus desirable al fresco patio seating that made it seem less chaotic and claustrophobic. The food was just as I remembered from original. 2.0 appeared to be a worthy upgrade.
Fast forward to a year later. Some errands brought us to Culver City and I figured it would be a convenient stop for a bite to eat. With our order placed, and double IPA (and table number tent) in hand, we went to survey the semi-communal tables on the patio. Unfortunately we had hit that unmagical hour, when everyone had just settled in to drink and eat, and no one was in any hurry to part with their valuable seats. Anyone still waiting for a table had made their wagers on the first tables to leave, and had already parked themselves in front of their choices, ready to pounce at the slightest indication of departure. 15 to 20 minutes passed and still no seats for us; waiters began to apologetically hand me plates of food sans table. With more orders arriving, the waiters had no choice but to place the plates on the table in front of us. Hmm, shades of the original Father's Office? Fortunately the party we were standing next to, upon seeing our predicament, offered to scoot over to make room. Thank God.
So with a place to set up shop, we tucked in. The Office burger I once raved about was a little underwhelming. The bread a bit too crusty, the caramelized onions too overpowering, and the dry aged beef and little flabby and soggy. The shoestring fries were too thin for my taste; the julienne cut left the potatoes dry. While the white anchovies were as good as previous visits, the yellowfin tuna was the surprise savior of the night. beautiful, glistening slices of barely-seared tuna, dressed with yuzu, shiso oil, on a mound of summer's best cherry tomatoes, topped with micro cilantro sprouts. deliciously plate-licking good.
I find myself a bit conflicted with FO. I really love any place that serves up great beer and food. However, the wait, crowds, and sometimes mediocre food have tempered my initial enthusiasm over Father's Office. Maybe it will improve with the next version. We'll have to wait and see.
Father's Office
3229 Helms Avenue
Los Angeles, CA 90034
(310) 736-2224