handmade soba at Ichimi-an Bamboo Garden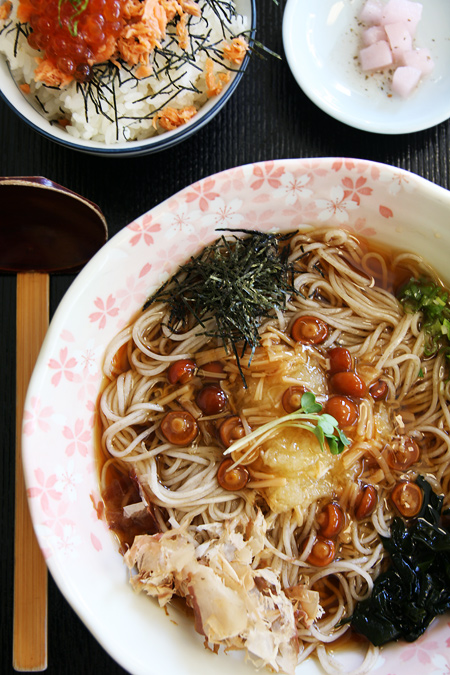 In a world of big box retailers, strip malls, and mega chains, where everything is mass-produced, market-studied, cost-cutted, and generic, lies an almost invisible little noodle shop, in the sleepy if not dormant old-town Torrance. If it wasn't for the ubiquitous neon 'open' sign illuminated just above the thicket of young bamboo, you would be hard-pressed to even notice Ichimi-an was open for business. Step inside, and it's no different. At peak lunch hour, the tiny restaurant quietly hums along at a causal pace; a soft-spoken Japanese man takes orders from the register at the center of the restaurant, while patrons at the low counter and small tables along the window and walls slurp down bowls of handmade buckwheat noodles.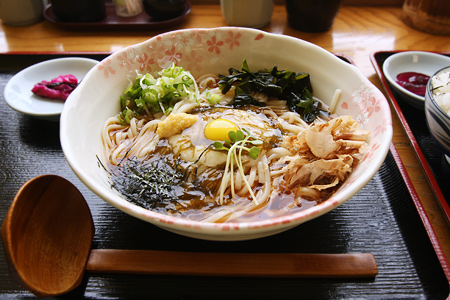 However calm and relaxed Ichimi-an might feel, the kitchen runs with typical Japanese efficiency, with food arriving within minutes of ordering.
The specialty here is definitely the handmade soba (Japanese noodles made with buckwheat flour), with the menu ranging from the ultra simple zaru soba (soba noodles served on a bamboo mat, which are simply dipped in tsuyu, a sauce made from dashi, mirin, and sweetened soy) to a multitude of other cold and hot combinations. The soba is probably some of the best in Southern California. Delicate and light, as only handmade soba can be, but with enough structure and bounce.
Each dish is carefully crafted from a multitude of fresh, high quality ingredients. The mentai oroshi comes topped with spicy cod roe, grated daikon radish, shaved bonito, and green onions. Swirling in the cod roe adds a subtle, briny heat to the stock, though never overpowering the delicate freshly-made noodles.
Another bowl features glistening nameko mushrooms; a dab of wasabi adds just the perfect amount of complementing nuttiness. The broth that plays a major role in Ichimi-an's noodles is well-balanced and speaks of dashi and soy, but is never too sweet.
One of the current specials, tororo mozuku, a cold preparation of udon (a thinner, flatter version, more akin to fettuccine in shape), is highlighted by a flavorful vinegar-based broth, which gains substantial body from the addition of grated mountain yam. Each slurp and bite delivers an entertaining mouthful; chewy al dente noodles, vinegary seaweed, citrus-like grated ginger, peppery radish sprouts, umami-rich bonito, and an unusually thick but satisfying soup (further enriched with a raw quail egg).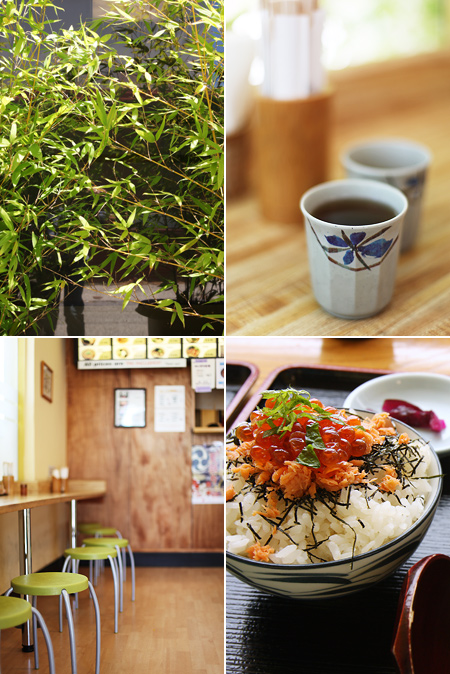 In addition, Ichimi-an offers small rice bowls, which helps to fill the void when noodles and soup just aren't enough. While the tuna bowls are somewhat bland due to the absence of seasoning, the sake ikura bowl (flaked salmon with roe) bursts of salt. The floral, herbaceous chiffonade of shiso provides a suitable foil, and when proportioned with a bite of rice, the saltiness of the salmon and roe is brought into check.
To complete the meal, the restaurant provides complimentary hot and cold hojicha (roasted green tea), and soba-yu (the water in which the soba noodles are cooked in).
It's difficult not to notice the pride in each bowl, the reverence of ingredients, and the attention to detail. Presentation is paramount; each tray of food carefully prepared, arranged, and delivered to your table, delighting not only the taste buds, but the eyes as well. It's this following of time-honored tradition, and wonderfully simple and anthentic food, that is a refreshing departure from the norm.
Ichimi-an Bamboo Garden
1618 Cravens Avenue
Torrance, CA 90561
(310) 328-1323