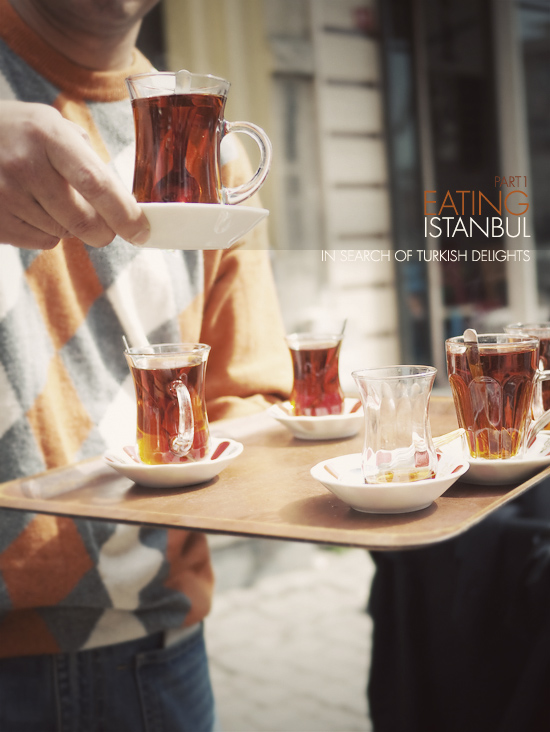 Food has become an ever-increasingly important facet of travel these days, and it's hard to deny that a country's or region's cuisine has as much to say about itself as any historical site, museum, or tourist attraction. Istanbul is no exception; every restaurant, dish, and bite create a beautiful tapestry that illustrates the soul of the people, and the complex, intertwined history of immigrants, exotic trade and spice routes, and foreign conquests that have help shape the fabric of the city and its culture. So it's not difficult to imagine that discovering the food of Istanbul would be a important if not integral part of our visit. Given the size and sprawl of this metropolis, it's easy to get lost among the shear number of eateries and restaurants commanding your attention. But thanks to a stack of guide books, some great online sources, valuable advice from locals, and a little serendipity and luck, we were able to uncover some fabulous eats over the duration of our stay that made our trip to Turkey simply wonderful; probably one of the most memorable to date.
Our baptism into the world of Turkish food occurred shortly after arriving into Istanbul. Famished after the long journey from LA, we sought a quick, late-night fix to quell our growling stomachs and stumbled into the busiest establishment we could find. Within steps of the W Istanbul, Şampiyon Kokoreç looked like any other chain fast food joint: small, brightly-lit, staffed with neatly-uniformed employees, and filled with post-drinking revelers and hungry insomniacs. We soon found out the specialty, kokoreç, is the small and large intestines of lamb, layered on a spit and slowly roasted. The meat is pulled off the spit, chopped and grilled with tomatoes and red peppers, and dusted liberally with dried oregano. The hash is served as-is on a plate, or as I prefer it, scooped into flavor-sopping bun. The resulting sandwich, in my opinion, is one of the best contributions to Turkish late-night cuisine. The combination of charred and juicy bits, with intense lamb flavor (surprisingly devoid of the usual innard funk) would convert even the most offal averse. Greasy, filling, and absolutely delicious. Kokoreç was quite possibly the best (and unanticipated) introduction we could have hoped for, and the perfect late-night snack.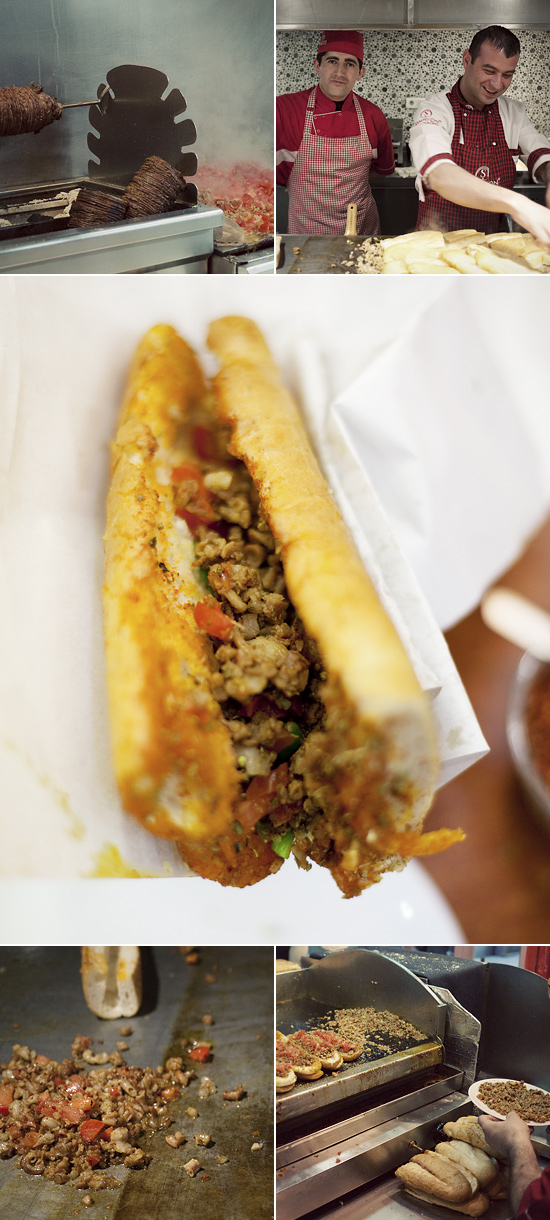 I have to admit the thought of getting around Istanbul was initially quite intimidating. All the books, articles, and travel shows could only do so much to paint a picture of this vast and exotic city. It can be overwhelming the first day or so, but the expanse quickly shrinks down to a more manageable size. When it comes to the food scene in Istanbul, One resource that was invaluable in plotting out the culinary landscape was istanbuleats.com. This English language website contains a wealth of restaurant reviews and hand-picked recommendations, uncovering hidden gems passed up in the usual guide books.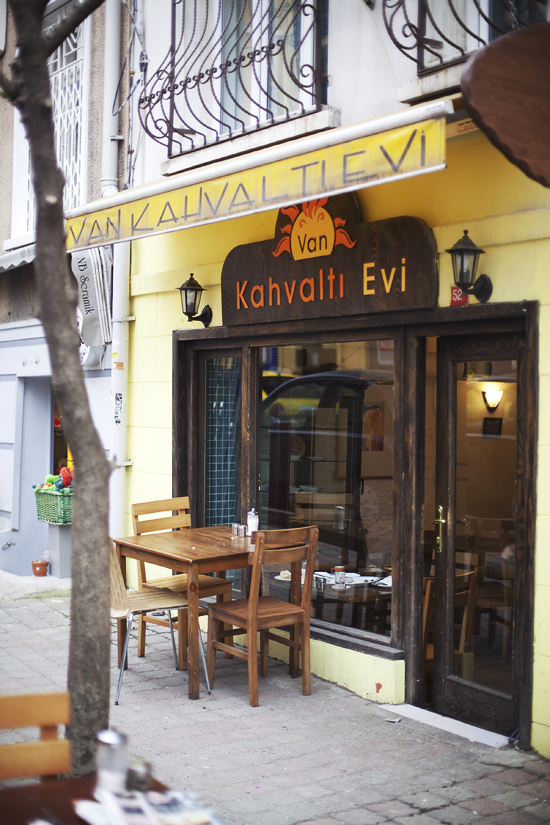 One of the many choice finds suggested by istanbuleats was the lovely Van Kahavaltı Evi. Specializing in regional fare, with a focus on local and organic products, this lively hotspot in the Cihangir neighborhood serves up a wonderful Turkish breakfast. We enjoyed a leisurely morning streetside, sampling regional cheeses with tomatoes, cucumbers, olives, and crusty bread, and sipping hot tea elbow to elbow with young Turks. Not to be missed is the sucuklu menemen, fluffy scrabbled eggs with spicy sausage, tomatoes, onions, and peppers, and the indulgent bal kaymak, Turkey's version of clotted cream, adorned with beautifully golden honeycomb. If there was a better way to start the day, we didn't know it.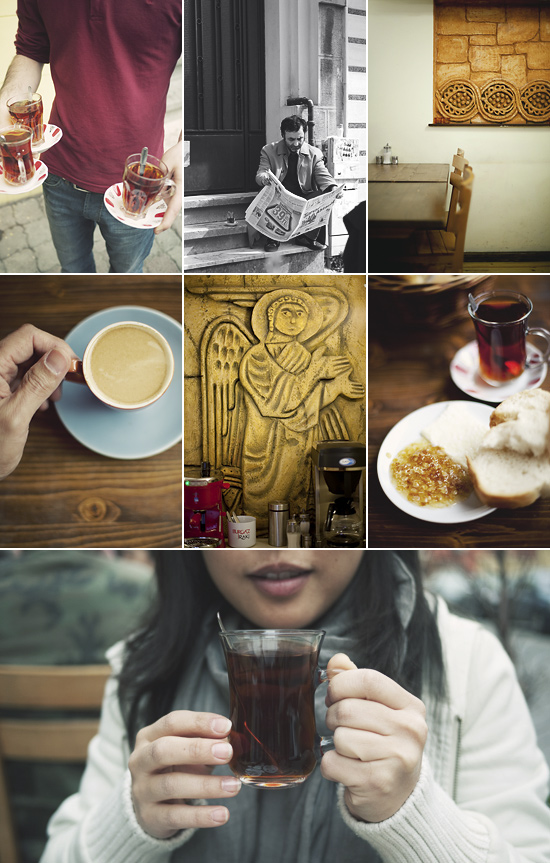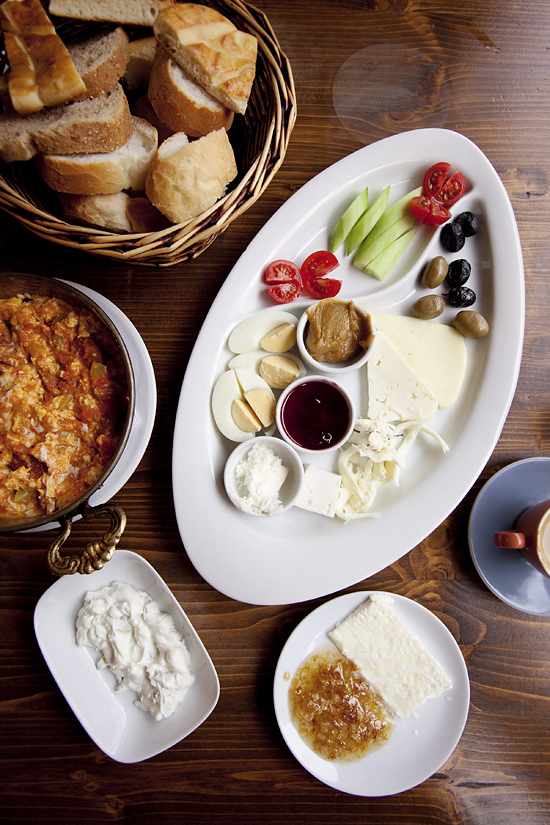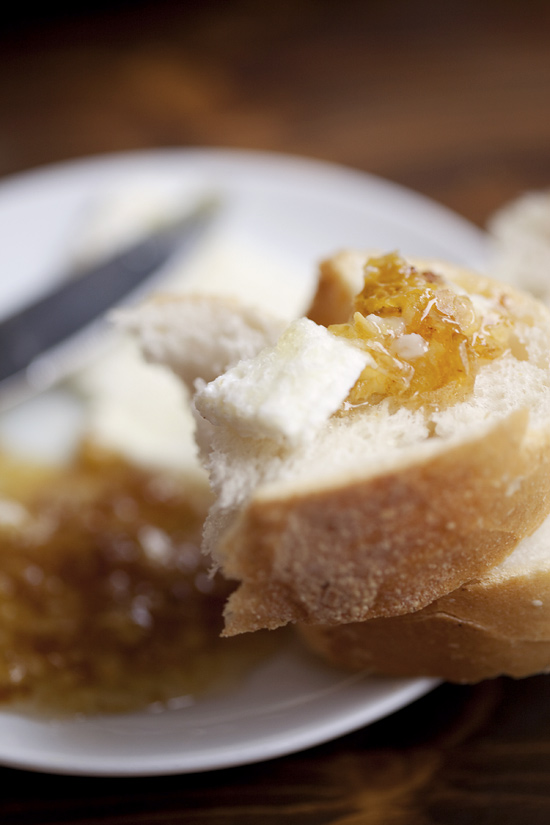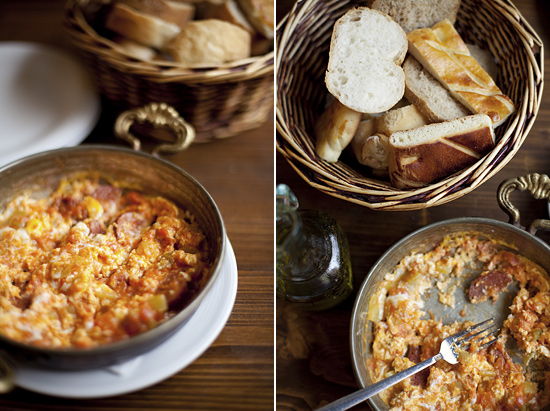 Another great suggestion from istanbuleats was the wonderful Zübeyir. Just off Istiklal Caddesi (the main walking drag in Beyoğlu), this quaint kabob house is a must try for the ubiquitous grilled skewers found throughout Istanbul. We grabbed prime seats next to the ocakbaşı (a long hearth with a beautiful, hand-hammered copper hood), and had a fabulous evening watching a variety of meats sizzle and smoke over crackling hardwood coals, and finding their way onto our plates and into our happy stomachs. Along with perfectly grilled skewers like the spicy adana kabob, lamb chops, and the amazingly succulent lamb ribs, we also selected a few plates from their tray of mezze (appetizers), like a creamy pumpkin mash with tart pomegranate molasses, and black-eyed peas with parsley, dill, and lemon. We toasted a night of great food and good cheer with a few glasses of anise-y raki, the Turkish spirit not unlike the Greek ouzo.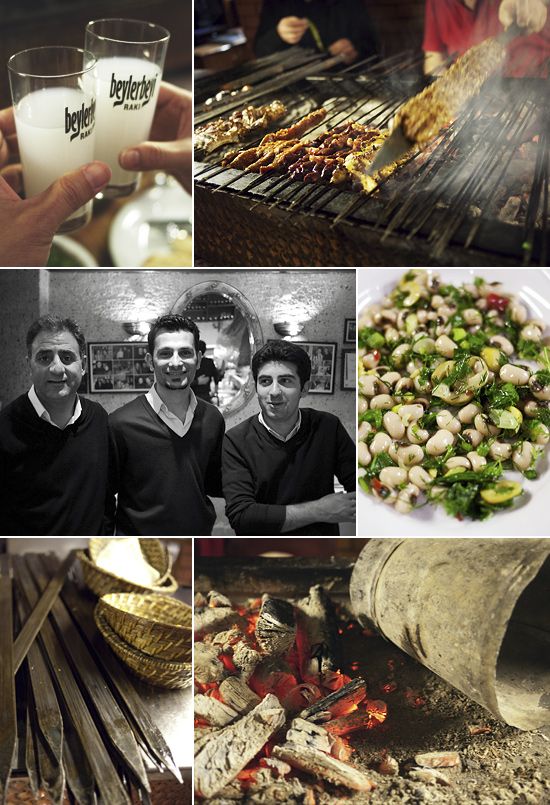 Any visit to Istanbul will inevitably lead you to the Galata bridge, the link between the new and old city, and the busy southside waterfront of Eminönü. It is here at the mouth of the Golden Horn where you will find throngs of people rushing to and from the ferries that shuttle locals and visitors alike to various stops up and down the Bosphorus. This whole area seems to be teeming with fish; those who seek to catch them, as evident from the scores of locals with their poles angled off the sides of the bridge, and the restaurants and vendors who aim to cook and sell you some. Many of the restaurants that occupy the lower level of Galata will attempt to lure you in with a sales pitch and some Turkish charm, but the real action occurs adjacent to the ferry landing, where gilded and ornately decorated floating kitchens will sell you balik ekmek. There's something more fun watching your fish sandwich, which is simply grilled and served with shredded lettuce and onions in a baguette, being made on a boat, and then deftly handed off as swells lull the package within the vendor's grasp on terra firma. Balik ekmek is typically consumed with an alarmingly rosy-tinged cup of briny salgam, or pickle juice (I tried a pickle but refrained from drinking the juice). However you wish to eat it, a worthwhile experience nonetheless.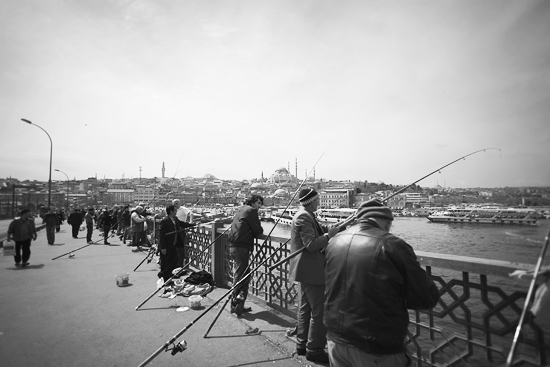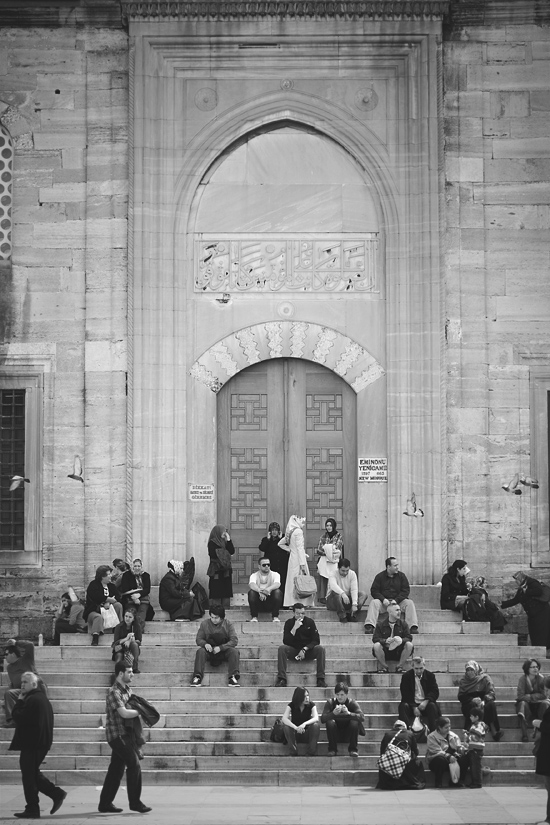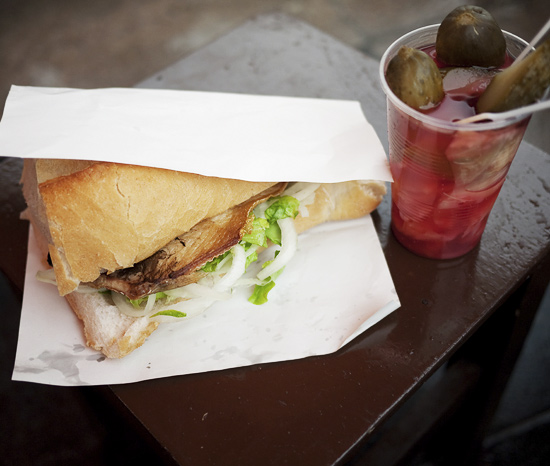 If there was one thing we couldn't get enough of in Istanbul, it was kaymak. Luscious, creamy, and never too rich, this indulgent treat became a part of our morning ritual. Luckily for us, just a short stroll from our hotel was Beşiktaş Kaymakçi, where charismatic owner Pando serves his kaymak traditionally with a spoonful of Turkish honey, accompanied with a light and crisp baguette. Show any interest, and he will proudly gesture to old photos on the wall, of ancestors that have run this old shop since 1895, and of water buffaloes from which kaymak is made (from the milk that is). Beşiktaş Kaymakci is a charming piece of living Istanbul history, well off the beaten tourist path. If you're in the neighborhood, pay old Pando a visit.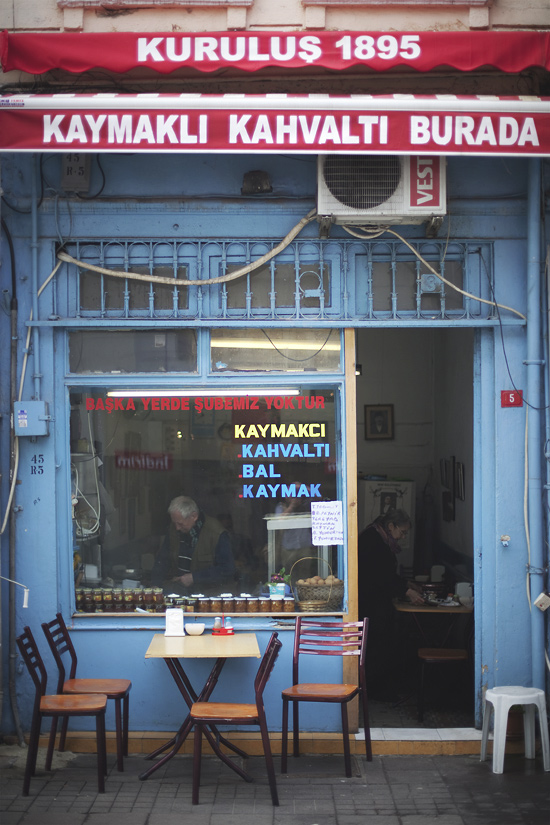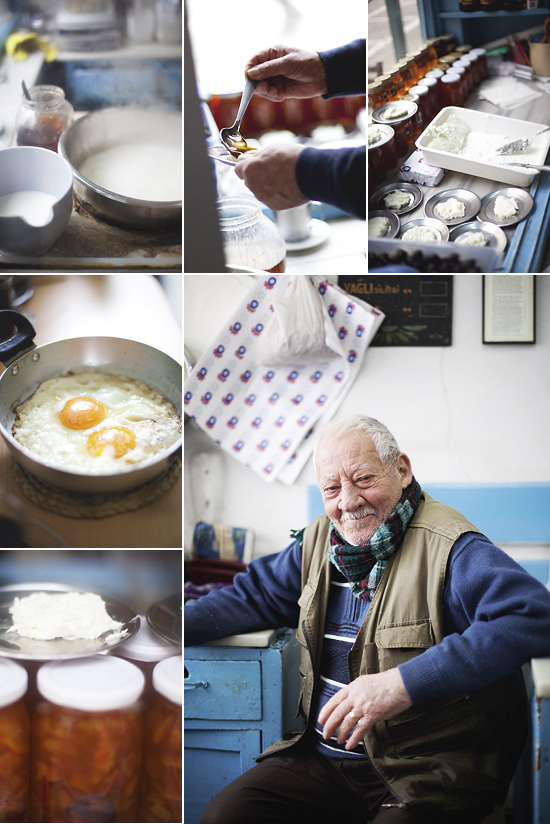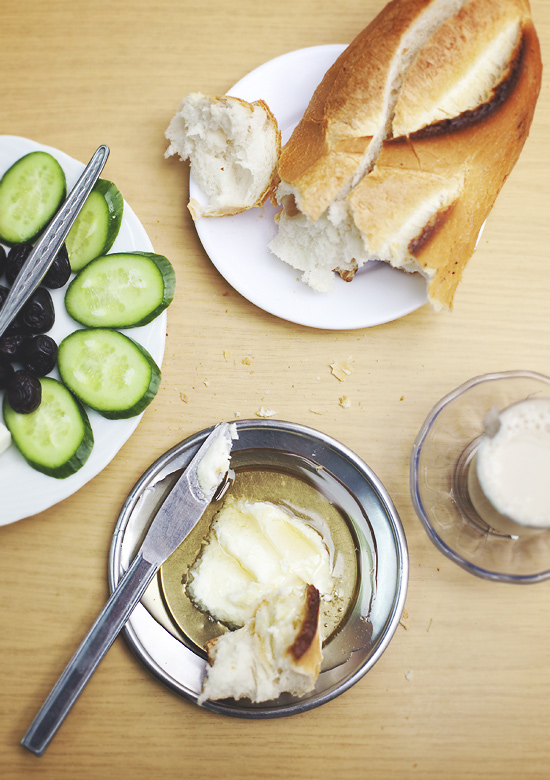 If traditional establishments reflect the cuisine of Istanbul's past, a good handful of restaurants also point to the city's modern and chic present. At the sleek Mikla restaurant, star chef Mehmet Gürs displays the creative fusion of his Turkish and Scandinavian roots. Local fish like grouper is sliced raw and presented simply with dill, chives, lemon, and jewels of caviar. Flavorful Kıvırcık lamb, sourced from the Trakya region in Northern Turkey, is offered in various preparations, each accompanied with modern takes on familiar ingredients. The food is only topped by the killer, panoramic view of the city that is alone worth the price of entry.


Though upscale, posh places weren't really part of our focus, we also stopped into the Ortaköy branch of the House Café for a little bite to eat. With multiple locations throughout Istanbul, this cafe offers casual, contemporary plates like mini lahmacun 'pizzas' (flatbread with minced meat), paninis, and Italian coffee in trendy interiors individually designed by local firm Autoban.

There's still more food to come in a future entry. I just wanted to spare everyone the crazy single post with a thousand photos. Hopefully this time it won't take another month or so to post it.
Şampiyon Kokoreç
Balik Pazari Sahne Sokak No. 3/B-C, Beyoğlu
+90 (212) 251-2511
Dolmabahçe Caddesi No. 3A, Beşiktaş
+90 (212) 259-6268
Van Kahavaltı Evi
Defterdar Yokuşu No. 52A, Cihangir
+90 (212) 293-6437
Zübeyir
Bekar Sokak No. 28, Beyoğlu
+90 (212) 293-3951
Beşiktaş Kaymakçi
Koyici Meydani Sokak, Beşiktaş
+90 (212) 258-2616
Mikla
Marmara Pera Hotel
Meşrutiyet Caddesi 15, Beyoğlu
+90 (212) 293-5656
The House Café
Salhane Sokak No. 1, Ortaköy
+90 (212) 227-2699