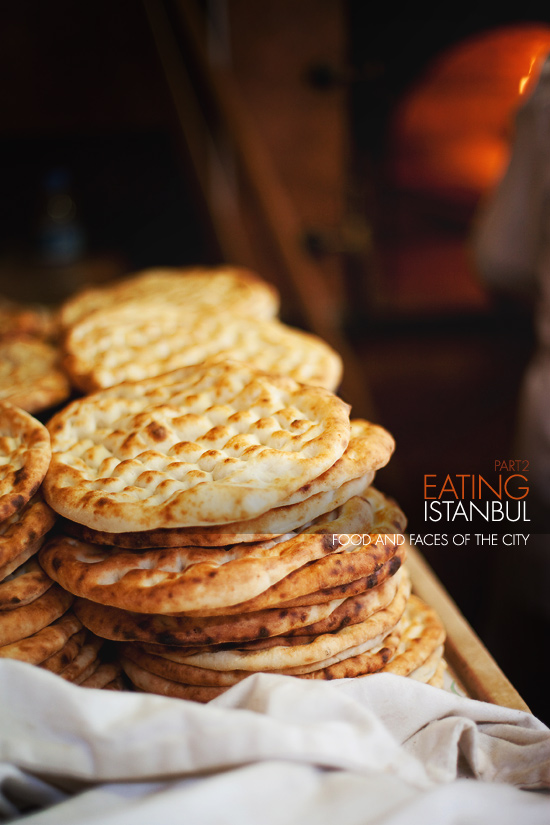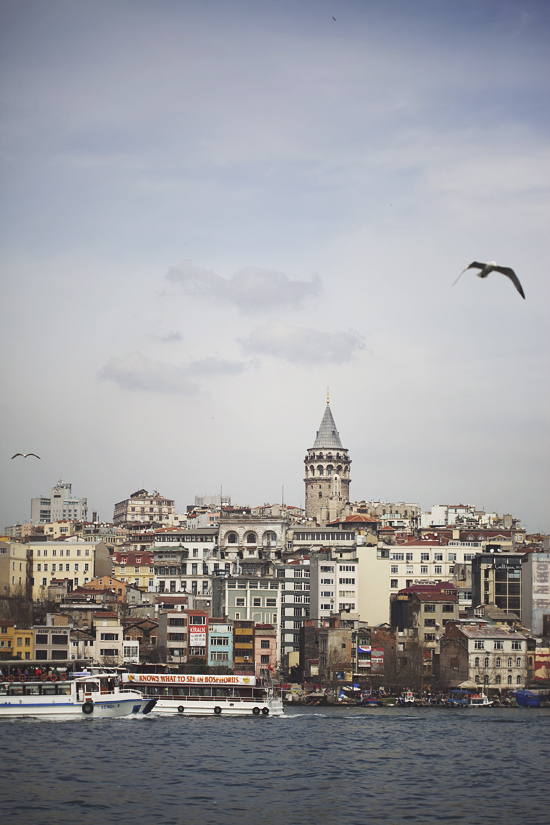 Just about a year has past since my visit to Istanbul and I'm finally getting around to posting the last of the photographs from the trip. As I look at the images, reminiscing about the neighborhoods we explored, the names of restaurants and dishes we consumed, a lot of the details are hard to recall without referring to my written notes. One thing that did however leave a lasting impression was how wonderfully gracious and hospitable the Turkish people were during our stay. There was a genuine warmth and generosity in just about everyone we came across. Just beautiful people, period. I had such a great time in this amazing city, and along with the remaining food bits I wanted to share a little more of the people I captured with my lens.
One of my most memorable experiences was meeting up with Angelis Nannos of Istanbul Eats, our culinary and cultural guide for the good part of a morning during our week-long stay. The restaurant reviews from Istanbul Eats were so invaluable during our research and planning, that we made arrangements to be one of the first to participate in one of their walking food tours. Quirky but instantly lovable, Angelis led us through a labyrinth of narrow alleyways and crowded markets, showing us a breadth of foodstuffs from the ubiquitous to the more obscure. Visits to some off-the-beaten-path historical sites during the tour kept things interesting and well balanced. If you love food and culture, there isn't a better way to get acquainted with the city.
More like a good friend than guide, Angelis was always more than happy to answer our barrage of questions about Turkey, its food and random minutia. Since we were the only ones in the group, he was also able to tailor the tour to our preferences (less touristy stuff, more food!). Along the way we met some incredibly beautiful and down-to-earth people; humble, proud, and always eager to oblige in my portrait requests.
I realized in documenting the things we ate on our trip, I found myself too focused on the plates in front of me. What was really grabbing my attention were the people behind the food (and the people of Istanbul in general), and I was really beginning to enjoy capturing their expressions. Their warm smiles and easy demeanor say it all.
Along our stroll we ran into a curious little vendor frying anchovies street-side. "Oh that's hamsi", Angelis exclaimed. I told Angelis we must try some.

These little anchovies were lightly dusted in cornmeal and fried crisp on the outside. A simple spritz of lemon was all that was needed. I have to say that this impromptu snack ranked as one of the best things I tasted in Istanbul. Delightfully fresh, briny, and piping hot on the inside. What I wouldn't do to have a tray of that right now with an ice cold Turkish Pilsner.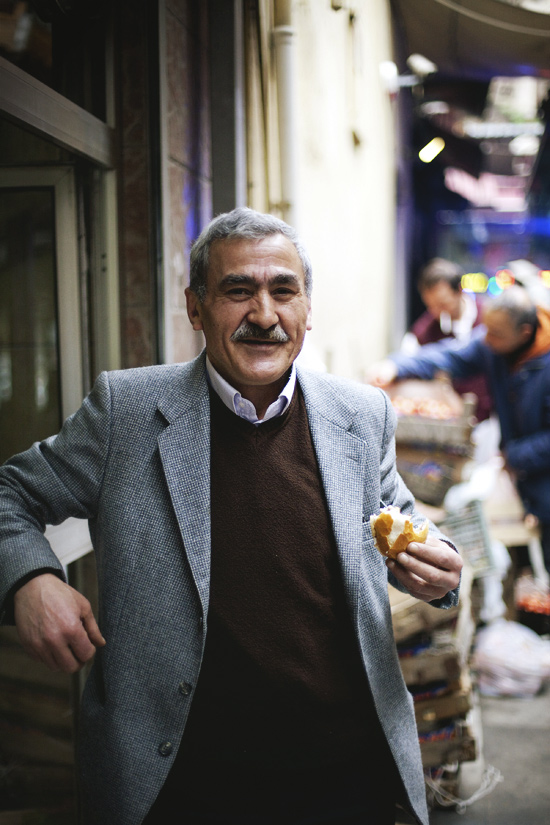 We took a break in a hidden courtyard for a cup of çay (tea) and Türk kahvesi (Turkish coffee) to go along with some pastries we bought along the way.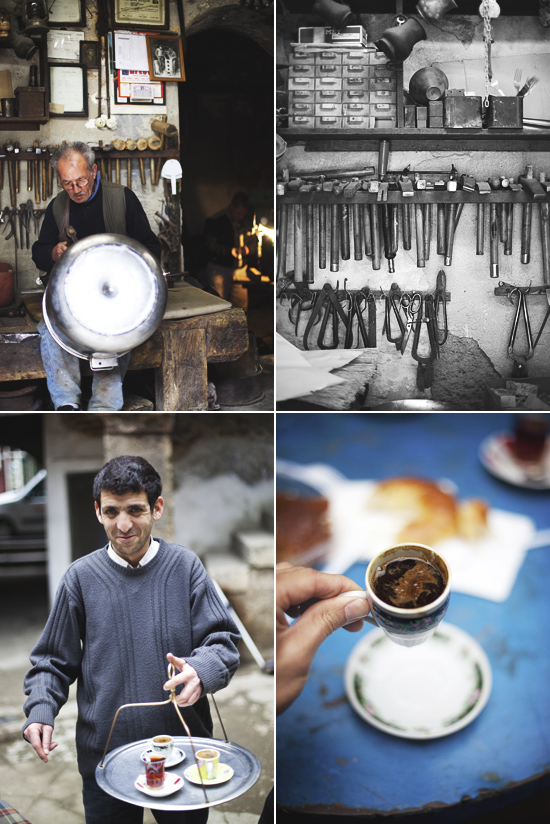 Life in Istanbul can be quite leisurely. Let me rephrase that, people take time to enjoy themselves (unlike our fast paced culture at home). The men do enjoy their tea, and at all times of the day you can see runners with trays full of tea delivering hot amber glasses from storefront to storefront.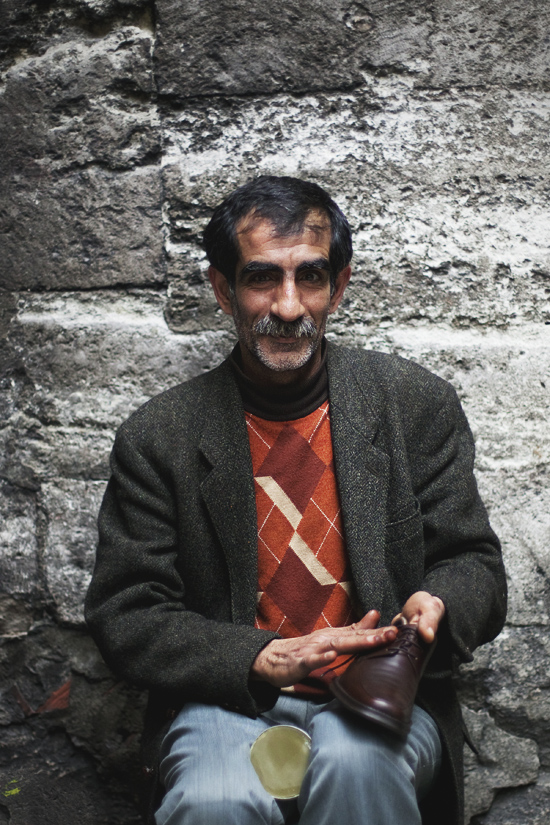 In a city that's as modern and forward as Istanbul, it's great to see shops that still specialize hand craftsmanship and individual trades.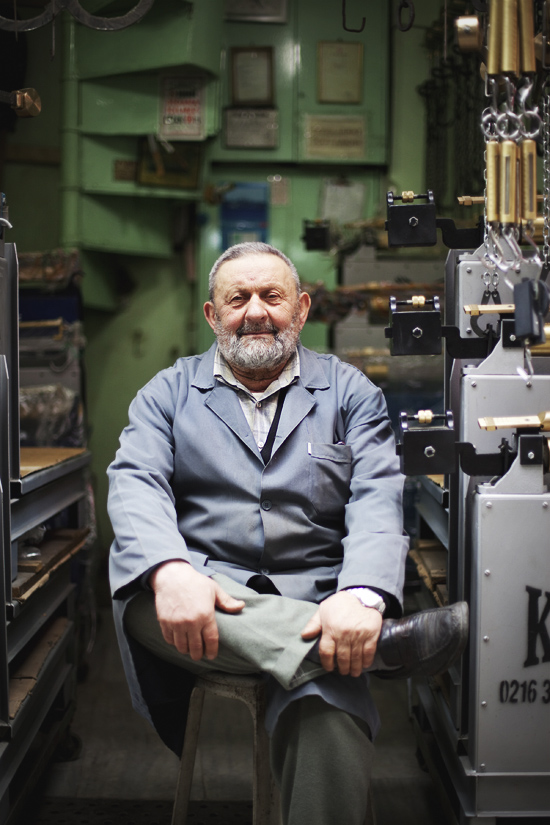 As we ventured away from the throngs of tourists to a curiously quieter part of town, we arrived at a unique little shop. Vefa Bozacisi specializes in boza, a thick, slightly sour drink (popular during the Ottoman Empire) made from fermented millet seed. With a dash of cinnamon and a handful of roasted chickpeas on top, it's an odd drink you consume with a spoon. Acquired taste aside, I can appreciate the little piece of history and tradition that's being preserved and carried on.

The ever energetic Angelis took us next to another neat find, again less frequented by tourists. Kadinlar Pazari in the Fatih neighborhood is Istanbul's Kurdish district. There's a quaint pedestrian square is flanked by butcher shops and markets selling all types of meats, cheeses, and produce from Turkey's eastern region.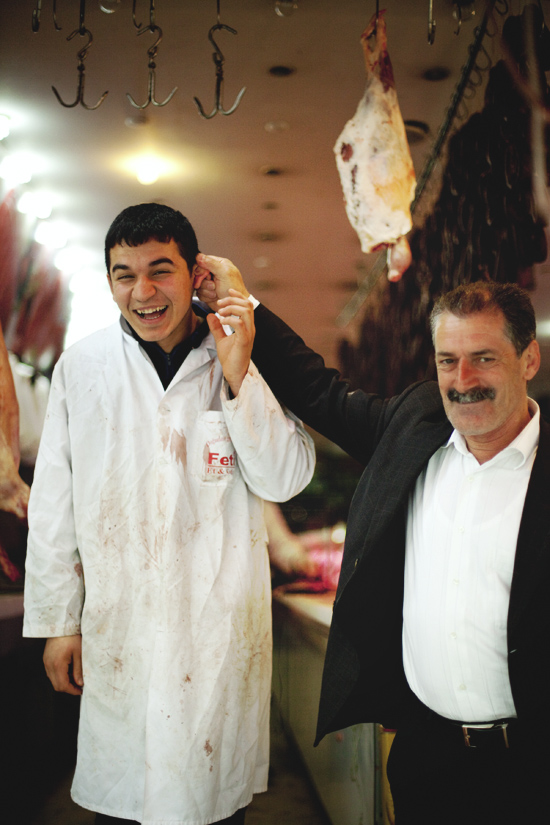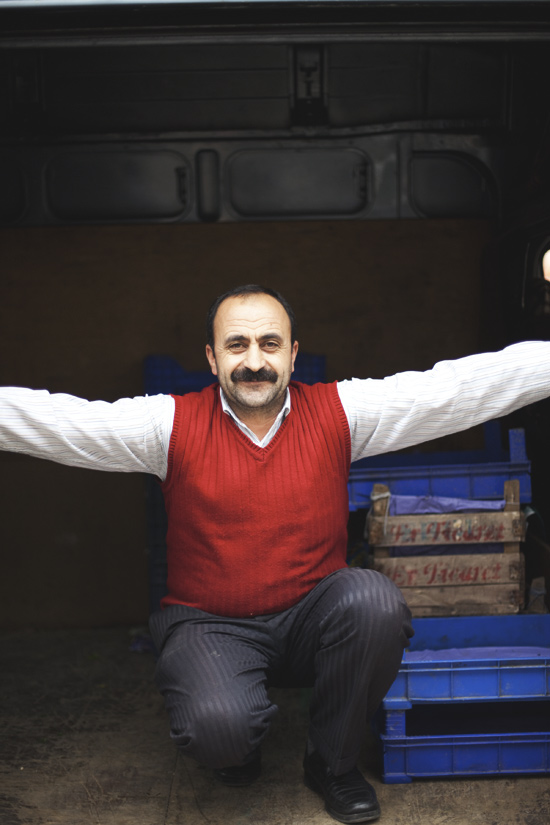 Our little journey (and tour) ended at one of the square's many restaurants for a leisurely afternoon meal.

Siirt Şeref Büryan Kebap Salonu specializes in regional Arabic dishes from the eastern part of Turkey that borders Syria and Iraq. The eponymous dish, büryan, is a slab of succulent roasted lamb that's carved up and served atop freshly-baked pide bread.

We had a great time chatting over juicy pork bits and another Siirt specialty, perde pilaf, a cone of fragrant rice studded with shreds of chicken, almonds, and currants baked inside a crispy shell.
If you ever make it out to Istanbul… I mean when you do, make sure to hit these guys up. And ask for Angelis, you won't be disappointed.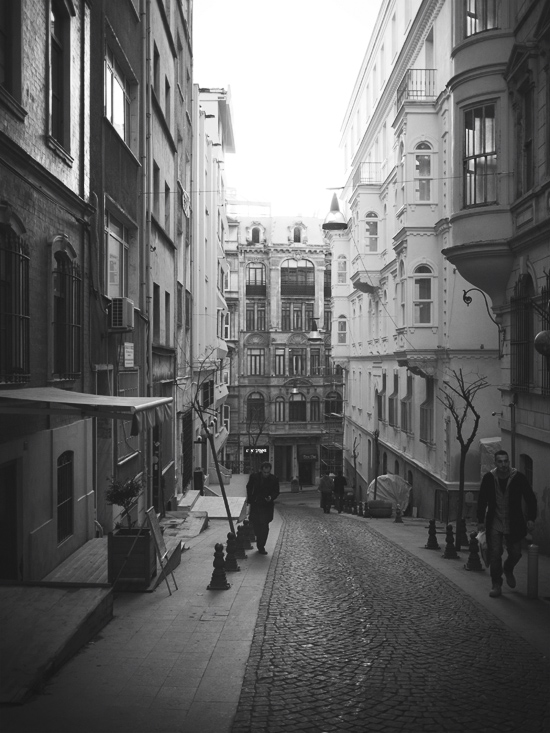 Spend any time in Istanbul and it's highly likely you'll end up in the Tünel/Asmalımescit area of Beyoğlu. The narrow cobblestone streets are home to outdoor cafes and pubs called meyhanes, which is like Turkey's version of a tapas bar. It's a great late night option when you want a little something to eat, and get your drink on too.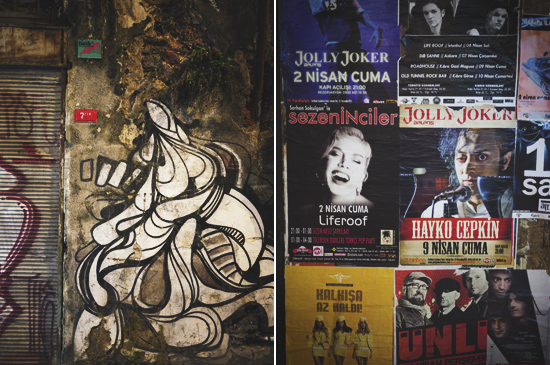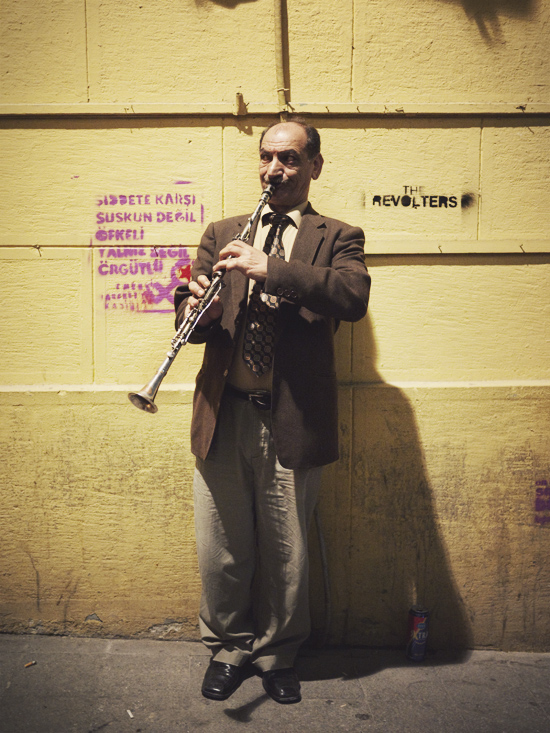 Another great place to explore at night is Istiklal Caddesi, the popular pedestrian avenue in the Beyoğlu district, and the adjacent Taksim Square. Besides people (locals and tourists alike), it's chocked full of boutiques, stores, and food options of every imaginable kind.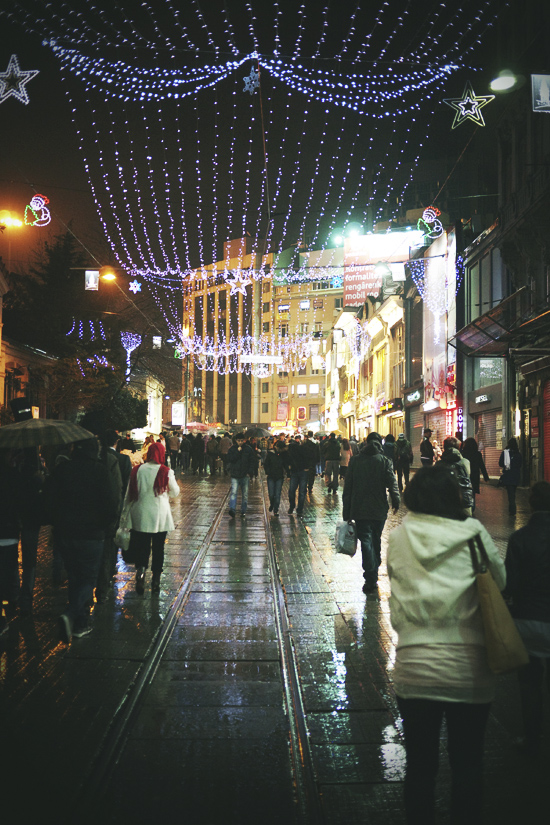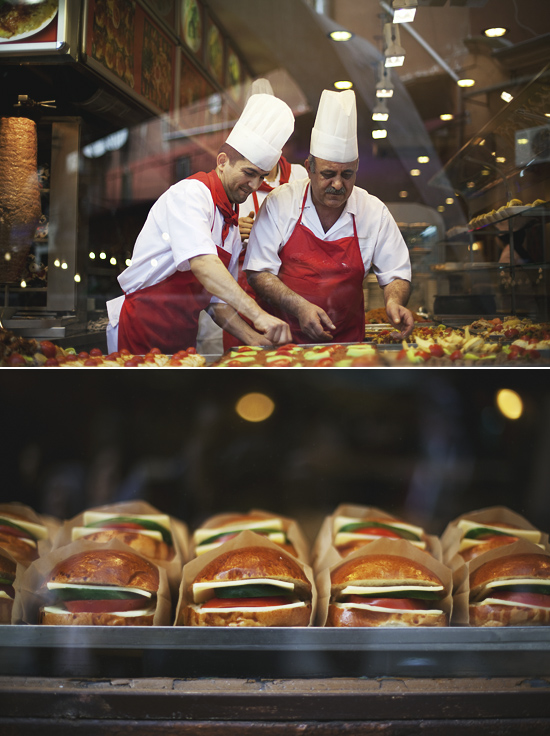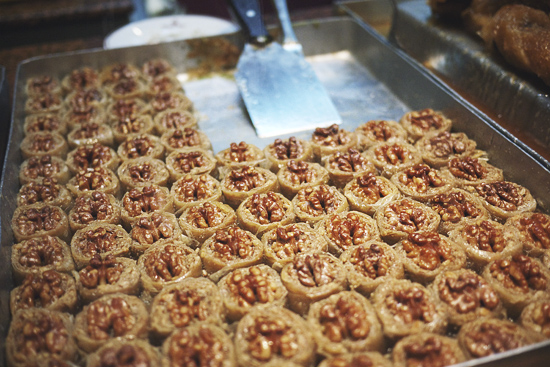 Just off Istiklal Caddesi by the Beyoğlu fish market is Durumzade, a tiny wrap shop made famous by a particular travel show host (and it's not the one that likes to eat grubs and iguanas). These handheld lavash wraps (durum) of minced chicken or beef kabobs are the perfect answer to the munchies after a long night hitting the bars. Good thing they're open 24 hours.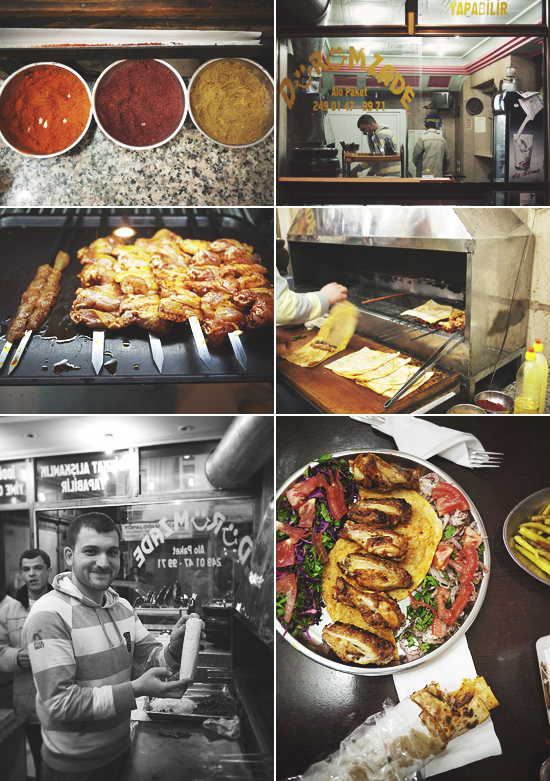 In our conversations with our new friend Angelis, we asked him what he would recommend us to try. "Iskender" was his answer. I'm not sure we ended up at the restaurant he suggested (we walked back and forth on the Istiklal Caddesi trying to find a particular distinguishing landmark), but the iskender at Bursa Kebapçisi was spectacular enough.
This dish reminds me of a Turkish version of our American sports bar nachos. Cubes of pide bread, slathered with melted butter and a tangy tomato sauce, is heaped high with döner (thinly shaved lamb), köfte (ground meat), and filet, drizzled with yogurt, and garnished with tomatoes and green peppers. Guilt-inducingly decadent. I'm salivating just thinking of it.
At this point I think a little dessert would be nice. You can find baklava in small shops all over town, but I have to admit that the giant Costco-sized Karaköy Güllüoğlu was one of the best I tried. There's almost 20 varieties of baklava (including my favorite, chocolate!), plus a handful of other decadent treats.


We shared an assortment with a few glasses of tea; a fittingly sweet end to our beautiful trip to Istanbul and to this series of posts. Chapter closed.
Vefa Bozacisi
Katip Çelebi Caddesi No. 104/1, Vefa
+90 (212) 519-4922
Siirt Şeref Büryan Kebap Salonu
Itfaiye Caddesi No. 4, Fatih
+90 (212) 635-8085
Durumzade
Kalyoncu Kulluk Caddesi 26/A, Beyoğlu
+90 (212) 249-0147
Bursa Kebapcisi
Atif Yilmaz Caddesi 8, Beyoğlu
+90 (212) 249-9742
Karaköy Güllüoğlu
Katli Otopark Alti, Karaköy
+90 (212) 293-0910
Previous entries from Istanbul:
Lost in Istanbul: Part I
From Turkey with Love
Lost in Istanbul: Part II
Eating Istanbul: Part I
Lost in Istanbul: Portrait of a City