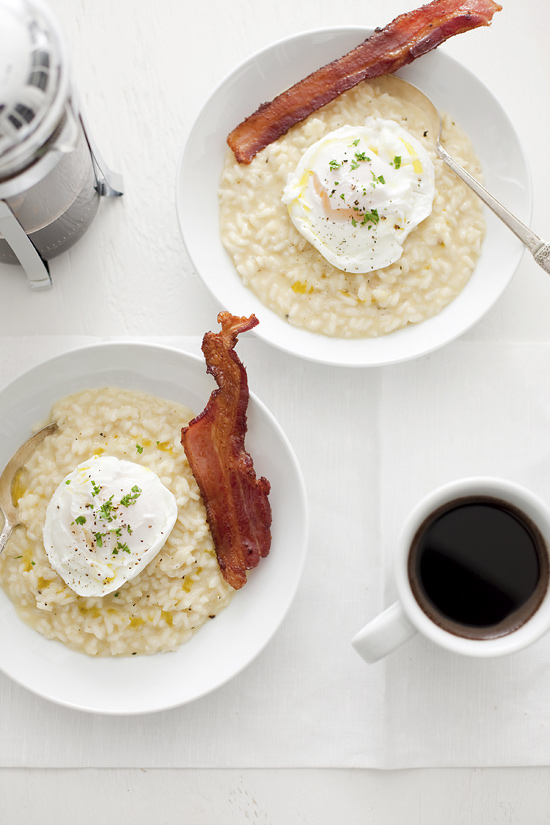 I really thought I could make it. The dish seemed so simple; a plate of creamy polenta,  layered with soft, savory taleggio and parmesan, the rich yolk oozed like a golden lava flow as I punctured the egg with my fork. It was sublime, and of course I kept thinking to myself, I could totally do this at home, nothing to it. Piece of cake.
Um yeah. In capable hands, maybe. My attempt at recreating the dish I had at the wonderful Tasting Kitchen in Venice weeks earlier was a total flop. To be honest, I'm not really sure where I went wrong. All I can remember was sitting down with a bowl of this stuff after wasted hours in the kitchen cooking and shooting and not even being able to finish even half of it. It was just blah. So bad, that the previous fond memories of the original were muddled and tainted by the failed copy. I had basically written off the idea until a few days later, while shopping for another dish, I had a light bulb moment. What if I replaced the polenta with risotto? And while I'm at it, add some bacon, because who doesn't love bacon and eggs. And ditch the taleggio because the wet sock thing wasn't doing it for me.
Ok, so I ended up with a completely different dish. Every bit as good as the inspiration, if not better. The poached egg goes so well with the cheesy risotto, and the texture of the rice is more comforting than polenta. It is a little more breakfast-themed, which is totally doable on a weekend morning, but if we can have breakfast 24 hours a day at Denny's, why not this risotto for dinner? Just skip the coffee if you plan on sleeping after.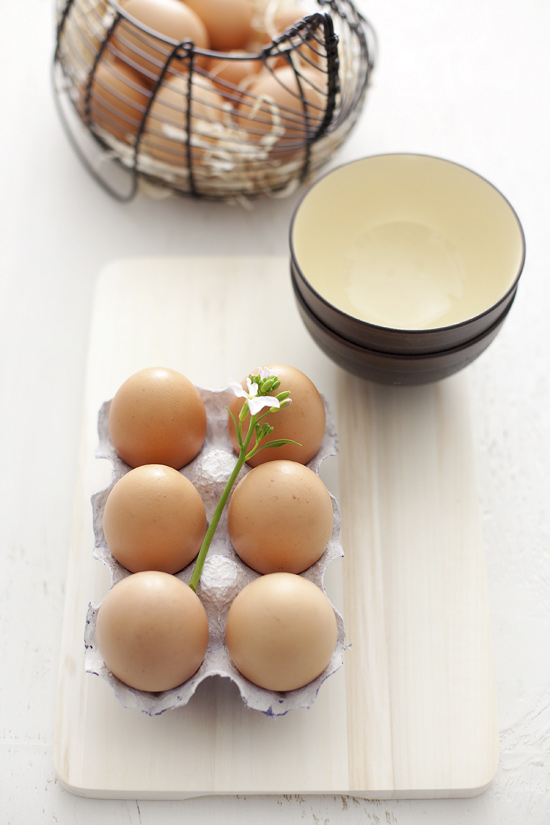 Mmm… farmers' market eggs. Get the best ones you can, because it's all about the eggs!

For cheese, I went with a Comté, or French Gruyere. Melts nicely and partners up well with Parmesan.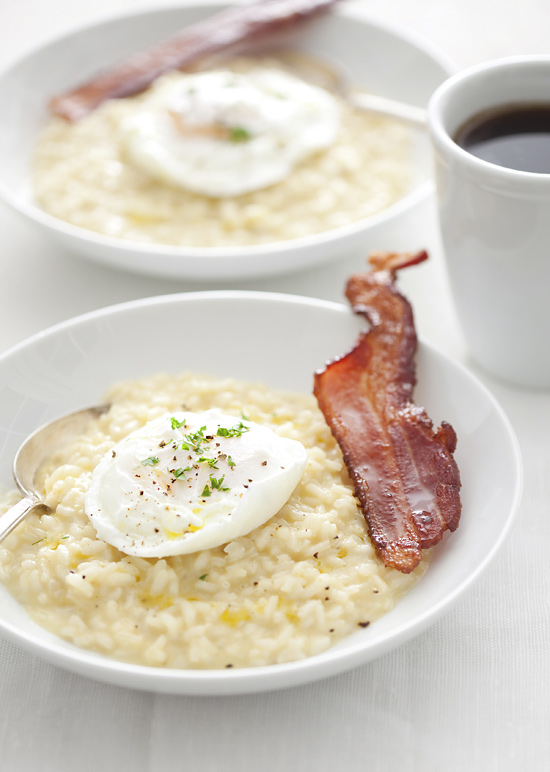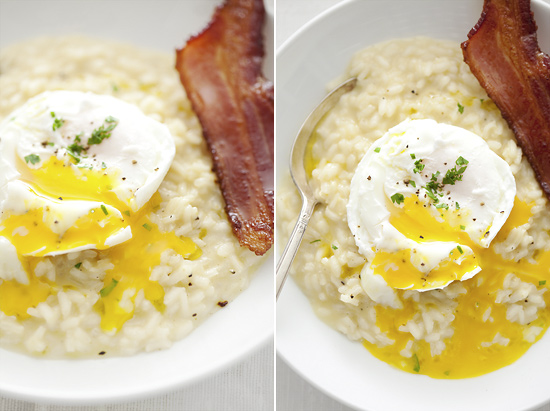 There's that lava flow I was talking about.
risotto with poached egg & bacon
I like my risotto cheesy, so add according to taste. Makes 2 servings.
3 cups of chicken stock or low-sodium broth
1 cup arborio rice
1/2 cup dry white wine
1 medium shallot, minced
1/2 cup freshly grated Comté
1/4 cup freshly grated Parmigiano Reggiano
2-4 slices of thick cut bacon
2 extra large eggs, preferably cage-free or free range organic
2 tablespoons olive oil
1 tablespoon butter
flat leaf parsley, minced for garnish
salt and freshly ground pepper to taste
risotto:
Bring the stock to a boil; reduce to a simmer. In a medium saucepan over medium-high heat, warm olive oil. Add the shallot and saute until translucent, about 1-2 minutes. Add the rice and toast in oil for 2 minutes. Stir in the wine to deglaze the pot. When almost all the liquid has disappeared, add enough stock to cover the rice. Add freshly ground pepper and a good pinch of salt. Lower the heat to maintain a vigorous simmer; stir occasionally. When the stock is almost gone, again add enough stock to cover rice. Continue this way until the rice is just al dente, about 20 minutes. Remove from heat. Add butter, cheese, and stir. Drizzle with extra virgin olive oil if desired. Serve immediately topped with bacon, eggs, and parsley.
bacon:
Fry bacon in a large saucepan or dutch oven (helps prevent oil from splashing all over the place). Flip occasionally for even browning and cook to desired crispiness.
eggs:
Poach eggs in simmering water for 4 minutes, either in a medium saucepan or a large shallow saute pan. Check out this video/discussion on the different methods of poaching eggs. I'm too lazy to rehash all that here.